A weekend getaway in Singapore
Everybody knows that Singapore is a heaven for a shopaholic. But, when you don't feel like shopping, you might be wondering what to do in such a small city with all the big shopping malls around?
If you want to have a nice and relaxing weekend in Singapore, perhaps you can follow my route. Hehehe.. This is what I did last weekend in Singapore. Quite relaxing and I managed not to buy any clothes and bags! Yiipppeee… Give me some applause, please! 😀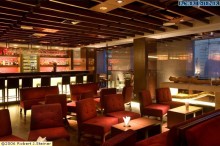 On Friday night, I had dinner at The Ivory, a very nice Indian Restaurant located in Clarke Quay. The restaurant is quite fancy and the food is amazing. Highly recommended for those who love Indian food. I don't have any complains at all on the food and they have several selections for vegetarians too, which is just perfect! ☺
Feels like burning some fat after dinner? Clubbing is the answer! Shwita, Budi, Andreas and the gang wanted to try a new club called "The Rouge". So, all of us went there. The Rouge is located in the Emerald Hill, Orchard Road. The place itself has two different rooms. The first one is sort of a lounge, with some jazz music. I didn't go in to this part of the club, though… but the music sounded really nice from outside.
My friends and I were all gathered on the second floor, which was the club. When I got there, they played RnB music. I loved it! There were two dancers dancing on the stage as well.
Surprisingly, this is not an ordinary club. They have a live band that plays… rock music! Oh noooooo… I don't like rock music! I love Coldplay though, but not heavy rock music. So, when the DJ stopped spinning and the live band started playing.. uhm.. it made me come to think that probably this wasn't the right place for me. Hehe… Well, don't take me wrong, the band was really good. They played very well, seriously. I had to admit. I enjoyed some of the songs they played, but not when they started to play the heavy ones.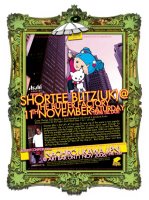 For those who love RnB music, try to visit a new club called "Butter Factory". Ikhsan and his friends took me there. I looooveeeee this club sooo much! Butter Factory is located in Robertson Quay, near Gallery Hotel. The interior design is interesting. It has a funky-Japanese-cartoon characters-kinda style. I was very impressed by it. Too bad I didn't bring a camera! Lots of cartoon characters decorate the ceilings on the first floor. Loved 'em. Very creative, indeed.
The second floor of Butter Factory is also nicely decorated by colorful walls (of course with cartoon figures everywhere). So damn nice! The music was good as well. The DJ played good RnB music. And not to mention the crowd. Oohh.. it's so happening! It seemed that everybody was very into the music and enjoying the vibe of the club. Love it. I had so much fun there. I think it's the coolest club I've ever been, by far ☺.
If you want to have a lazy Saturday, recovering from the crazy Friday night, you can choose one of the cafes in Esplanade. For me, since I woke up quite late, I'd rather go to the bookstore. Went to Borders and bought some books there. I could spend hours in this place and felt like buying everything! Hahaha.. (the problem is: when will I read all of them?)
Oyeah, forgot to tell you that I tried some Indian vegetarian meals in a restaurant located in Little India, called Raj Restaurant. It's a vegetarian restaurant and apparently it's quite famous among Indian community in Singapore. Almost all of their guests are Indians! Oh, the food is amazing too.. if you're a vegetarian like me, you should try to find this place. You'll love it 🙂
Saturday night wasn't complete without clubbing (again?!). Hehehe.. There are many clubs in Singapore. My suggestions: Attica, Ministry of Sound, Velvet, Zouk, Asia Bar.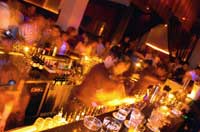 Attica in Clarke Quay is my favorite. I love the place and the crowd ☺. Ministry of Sound is nice as the club is huge. They have several rooms with different type of music. It's always happening there.
Zouk was the icon of Singapore for nightlife. But now its era is almost gone, I think. (considering MOS is around plus there are new clubs in Vivo City called Dragon Fly and St James Park). The crowd in Zouk is younger than in Velvet. So, if you don't want to be surrounded with bunch of college students, I suggested that you go to Velvet instead.
Velvet is nice and fancy. You won't see youngsters here (below 20 years old). I used to love the music here but somehow when we were there on Saturday, the DJ wasn't satisfying.
Asia Bar has the most stunning view as it's located on the top of a hotel. It has a fancy interior design as well. Nice place. But I didn't go to Asia Bar on this trip. I heard that it wasn't as happening as it used to. Ahhh.. that's too bad. But it's always like that in this kind of business, isn't it? When new clubs open, then people started to go and check the new places.. and forget the old ones. C'est la vie..
What to do on Sunday? Well, if you tired of Orchard Road, you can always try to visit Vivo City, the newest mall in Singapore. But hey, oyeah, I forgot… no shopping this time! You can go to Sentosa Island, like what we did, tried the cable car, ludge and sky car. It was fun. Then, took a bit of a walk in Vivo City.
Where shall we go for dinner? It's a classic question. One of my fave restaurants in Singapore is IndoChine. But this time, Shwita threw an idea to dine at Minoti, an Italian restaurant in City Hall. So, five of us were there, enjoying the good Italian food while having a lil bit of chat about everything (about work mostly… booooo!!!)
Not far from the restaurant, there was a HUGE Christmas tree. No wonder almost everyone who passed by, grabbed their digital camera/camera phone to take picture. First I didn't know what the hell were those guys doing.. taking pictures of buildings or what?
After we finished dinner and went outside the restaurant, then I knew what the fuzz was all about. Hehehe..
Singapore in Christmastime is nice and full of Xmas lights. You'd love walking in Orchard Road during this special season of the year. Xmas decoration everywhere and the lightings are just beautiful. You'll see people taking pictures along the Orchard Road, posing in front of a big fairy-tale-kind of looking book, or in front of big gold oak tree, or gold Xmas tree with lots of branches full of imitated money. Maybe you think it's weird, but.. uhm… I guess Asian people in general are really bad with pictures! We just loooovee to take pictures everywhere and everytime! Hahaha.. (especially some pictures maniac like me and some of my girlfriends!) 😛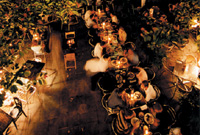 After dinner, if you still have the energy to chill out with friends, you can go to Chijmes. It's just across Menoti. I also love this place as it has lots of restaurants and bars and the vibe is just so relaxing and romantic (especially in the evening). You can sit outside, in the garden. The place is perfect for a garden party/cocktail party/wedding party (Shwita broad the latter option. Hahaha!) I could picture people walking around the garden, greet each other while having a wine or cocktail glass on their hands. Ah, so nice! 😀 We had drinks and sat outside at a café called Le Baroque. Aaron joined the gals. Hehehe…
So, that was my relaxing weekend in Singapore. It felt very nice as it was completely a short-getaway, no working stuff whatsoever (normally I go to Singapore for business trips). Many thanks to my friends who always entertain me every time I go to Singapore (Shwita, Budi, Ikhsan, Aaron, the newly wed: Georgine, Bejo) Hehehe.. Love ya, guys! :* :*
C ya around! Smooches! xxx