Thailand: (January 10th, 2009)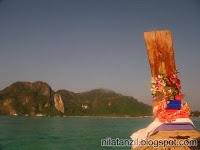 On my last day in Koh Phi Phi, I woke up at 5.50 am! Can you believe it? That's because I had to be at the Adventure Dive center by 6.15am. What for? I booked myself for a "Shark Watch" trip at the Shark Point, just across the Long Beach in Koh Phi Phi.
Josh, the "snorkel master" said, "100% guarantee you'll see many black tip reef sharks!". That's why I was willing to wake up so early. Couldn't miss the opportunity to see sharks!
There were 3 other people joined this "Shark Watch" trip. The dive center provided everything: snorkel, wetsuit and fins (for 800 Baht, all in). We took a long-tail boat to get there. Damn it was cold! Josh had a long wet suit, while I wore a short one. I left my own wet suit at the hotel to dry it up as I was leaving for Koh Lanta on the same day. Seeing Josh putting on his long wet-suit, I got so jealous, "I wish I brought mine! The water must be cold!!"
Before we jumped into the water, Josh shared the rules:
– When finning, don't make any bubbles as those bubbles will scare the sharks away. So, the fins shouldn't be sticking out to the surface
– Be quiet, don't move so much, especially in the shark area
It was very shallow, though. Around 3 meters depth, max. I saw 3 baby black tip reef sharks that morning, only one of them is 1 meter long, the rests are still babies, I think. Josh saw more coz he kept on pointing on something, many times.. but I didn't see anything! "Where are the sharks???"
It was amazing what Josh did. Sometimes he had to hold his breath to swim to the bottom to attract the sharks to come. According to him, the sharks sometimes are curious and will come to check him out. What a job, huh??! Even though black tip reef sharks are timid, but still… what if they decided to play around and feel like tasting a bit of human flesh? :p
We went back to the dive center, had a cup of tea and chatted for a while. People passed by and I recognized some of them. Wow! I was only here for a few days but I started to know people??! That explains how tiny the island is!
Even though today's shark expedition wasn't that successful, I had a good time and learned something new (the art of snorkeling and attracting the sharks, that is!). Plus, I got a chance to enjoy the sunrise in Phi Phi! ^-^ Lovely…