(Taiwan trip from March 7th, 2012 until March 11th, 2012)
It was the end of winter season in Taiwan, but the 15 degrees Celcius was still a bit chilly for me, especially at night when it got colder.
On my second day in Taipei, I decided to explore the city. I started my day by visiting "Sun Yat Sen Memorial Hall". It's a memorial of the Republic of China's National Father, Dr Sun Yat Sen. He was the founder of modern China and helped to end China's dynasties. That's why the Taiwanese came to visit this hall to honor and respect him.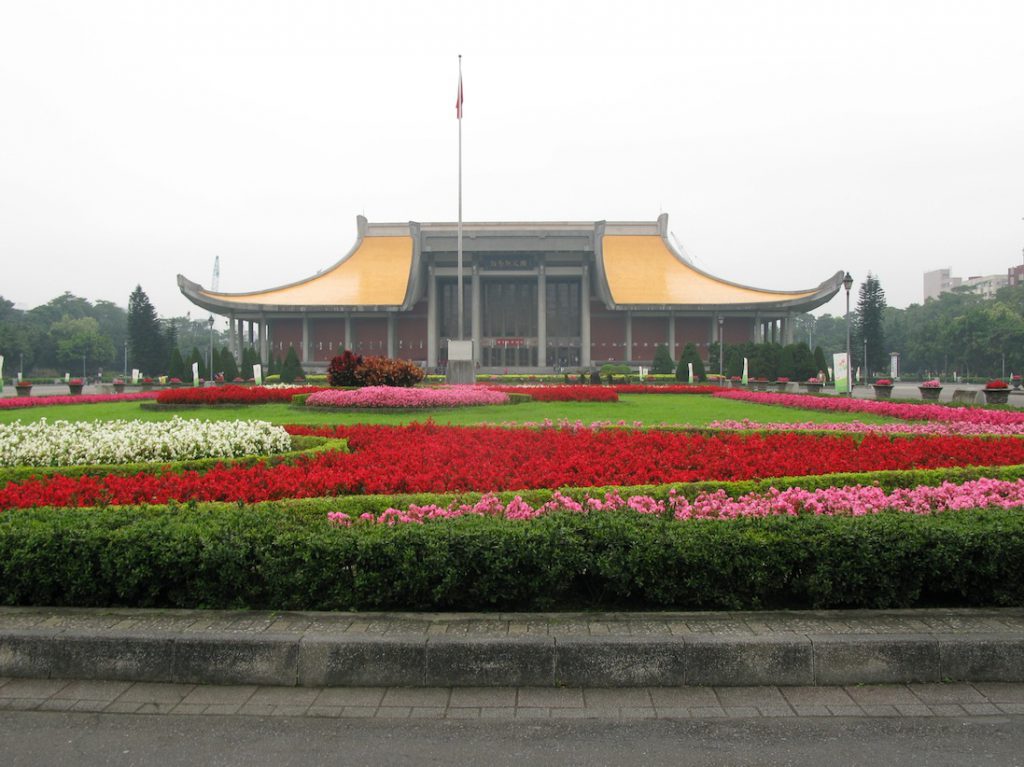 The Sun Yat Sen Memorial Hall has a beautiful garden with colorful flowers. On the left side of the Hall, there was a guy selling "giant bubbles" and he was very good in making interesting shapes out of the bubbles! Not only kids were entertained, the adults, too.. including me, of course! I've never seen anything like this in Indonesia. Giant bubbles? Who doesn't love that?!
Not far from here, one could see the tallest building in the world (for the time being, at least). It's Taipei 101, which has 101 floors and 509 meters height. Visitors could go up to the observation deck at the 89th and 91st floors and enjoy the city scene. It was raining when I was there, so I couldn't get the best picture of the interesting architecture of Taipei 101. Ah well..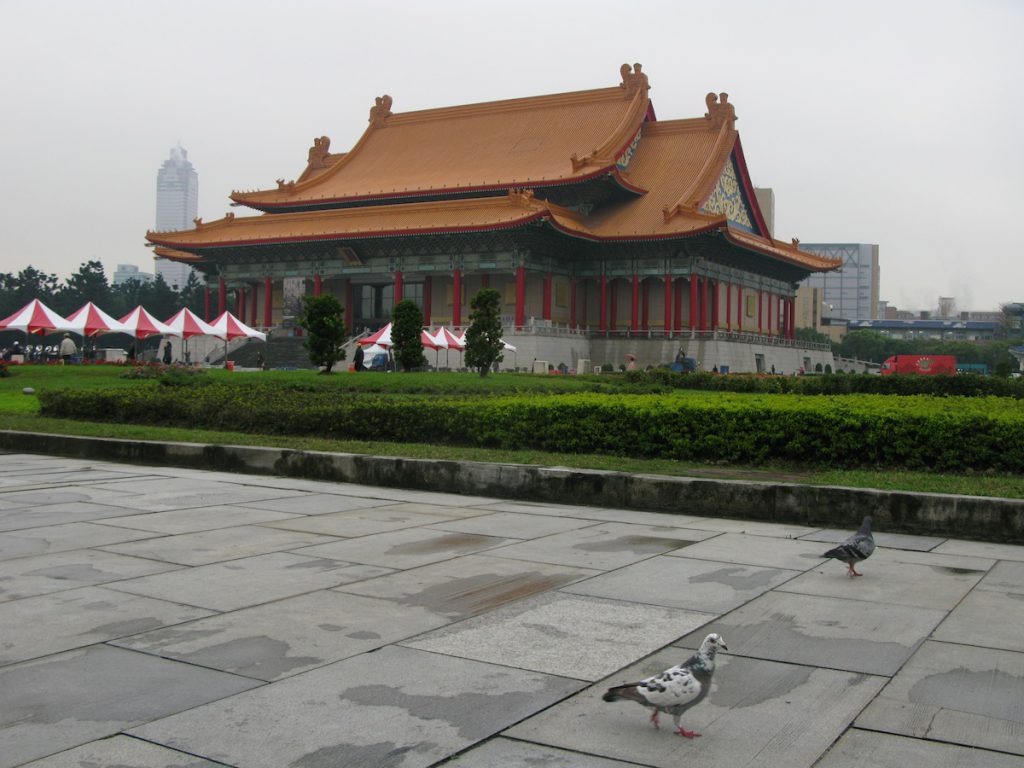 My feet then took me to Chiang Kai Sek Memorial Hall. I almost missed the actual Memorial Hall, because I was so impressed by the two almost identical buildings of National Concert Hall and National Theatre! I always loved buildings with characters. These ones, they were very beautiful with their distinctive Chinese details. Dominated by red and gold, these buildings have a huge hall where one could see (if you're lucky) the changing guard. And yes, I was lucky! Seeing the changing guard, my mind took me to the time where I also enjoyed the almost same scene in London, at the Buckingham Palace. Nice :).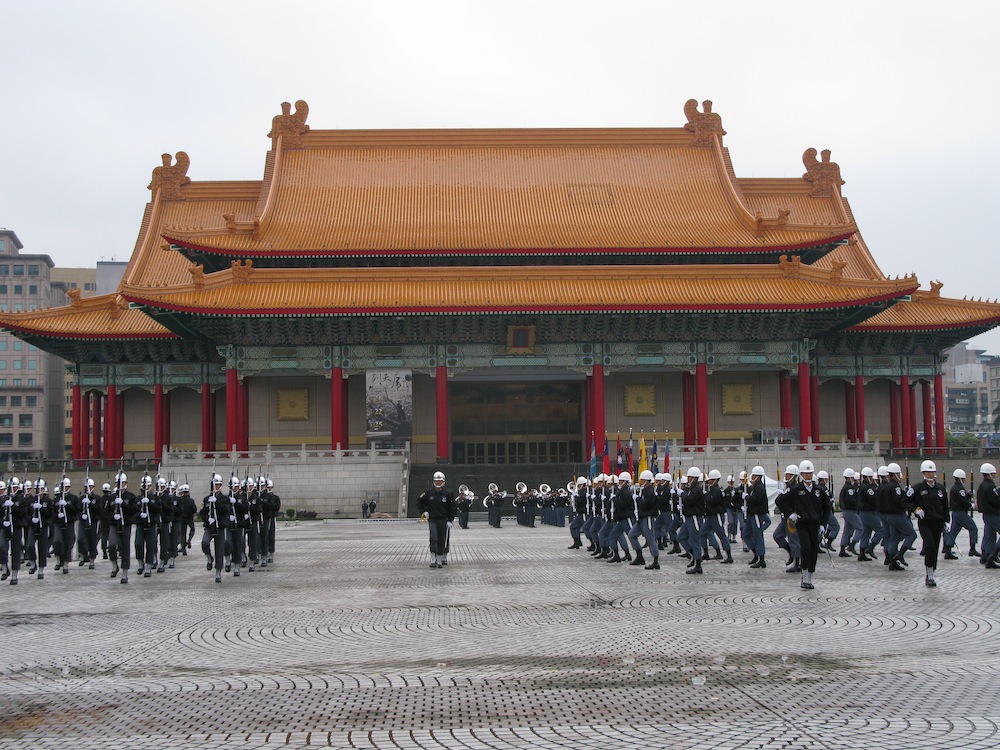 When your feet were tired, you could also stop at the little modern coffee shop at one of these twin buildings. They also served some snacks and good hot chocolate to warm you up!
Walked around the city and went to traditional market was also one of the things that I enjoyed here.
They had weird stuff in the traditional market, like dried sting-ray, etc. I tried to stay far away from those kind of shops because I had a pretty sensitive nose to fishy smells :p. The least thing you wanted was puking in a store in front of the owner! So, I prefer to spoil my eyes checking out the candy shops instead! Many candy and sweets one could buy for friends and family back home. Dried mangoes, dried papayas, dried plums, and many many more!!!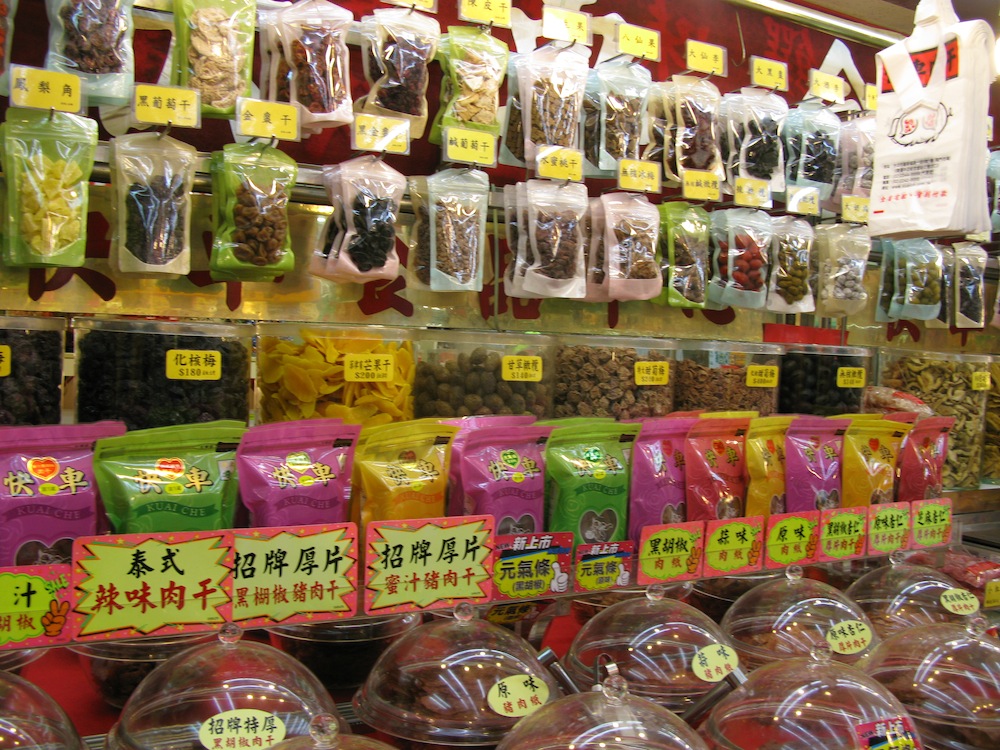 Where to go at night in Taipei?
Explore the bustling streets of Xi Men Ding. This area was known as the "Mini Tokyo of Taipei". Illuminated lights, fashion stores, funky youth walking down the small streets, this area was definitely has its own vibe that made your heart beats faster. In the weekend, it was super busy! I couldn't believe that all the streets were packed like that!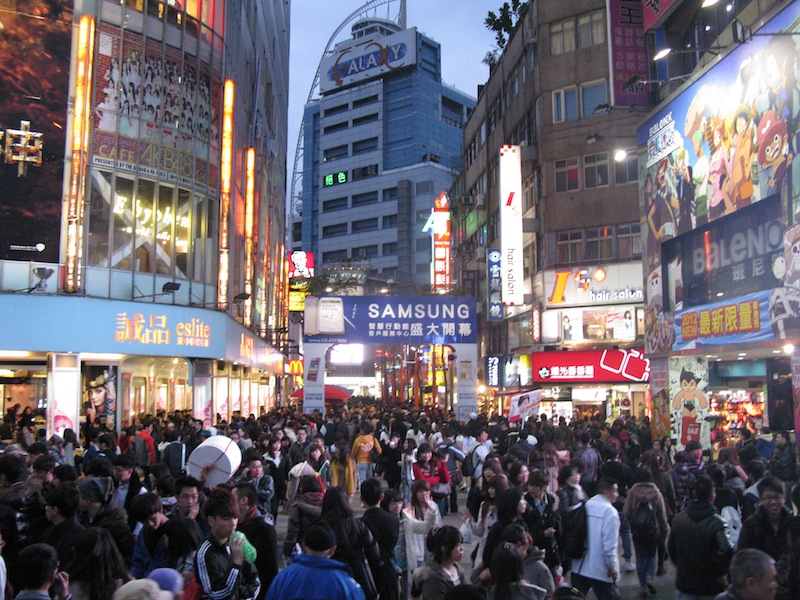 If you're not into a hip area, perhaps you would enjoy this: dare yourself to try so many local food at the night markets! Taipei is a heaven for those who love trying new things, especially food. It's famous for its night markets who open until late. Every day is a festive. It seemed that eating out was a local culture here. Local people LOVE going to night markets to eat and get tasty snacks!
My favorite was Shihlin Night Market. Zack and I took the city train here and stopped right before the night market street starts. Shihlin was the largest night market in Taipei. It consisted of two main streets: one was the food street, the other was the street with different stalls selling random stuff, like clothes, mobile phone cover, souvenirs, hello kitty glasses, and many more!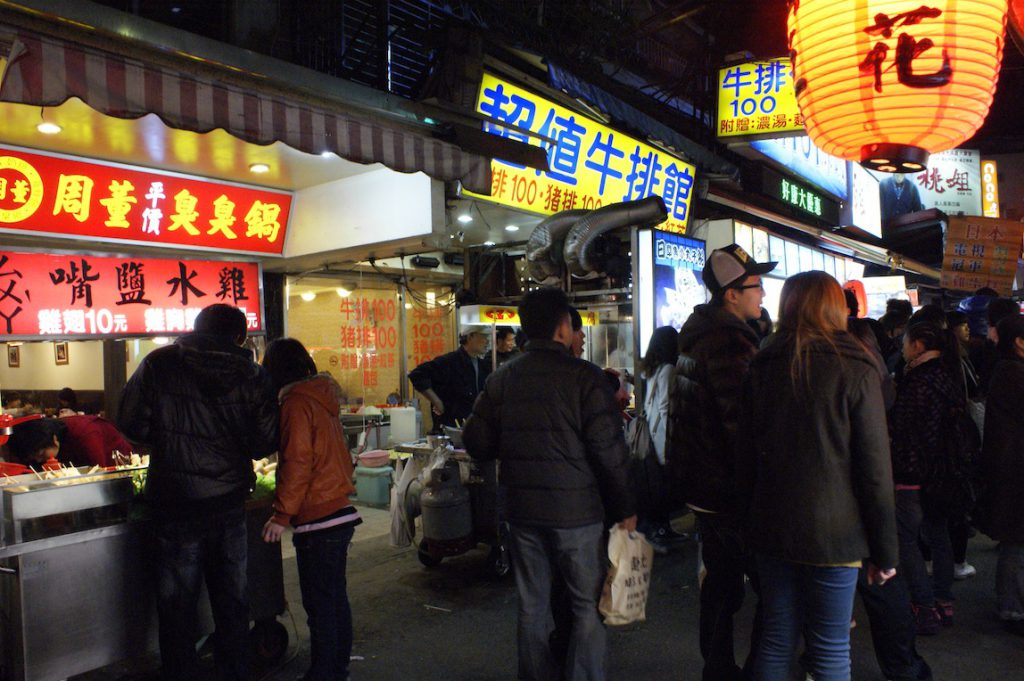 Both of us got excited to try delicious Taiwanese snacks. Too bad both of us were vegetarians, so our options were limited. But, even that, we tried 6 different types of snacks in one night!!! Not bad, huh? 😉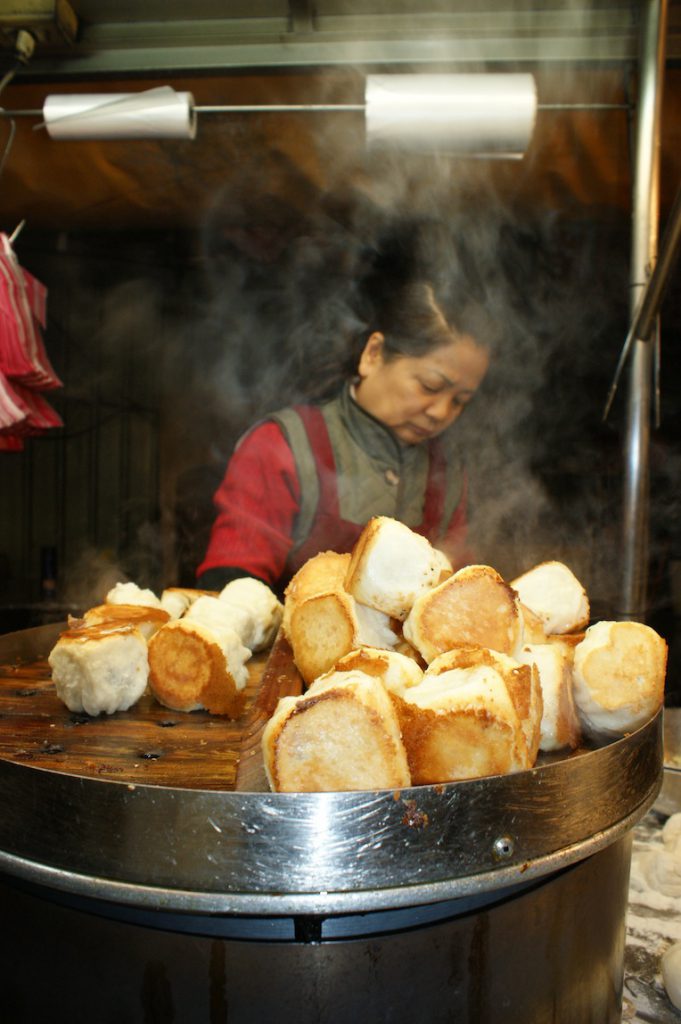 Among them were fried milk. Yes, fried milk! 😀 The stall said "Frying Milk", instead of fried milk. We thought it was cute :). How's the taste and how did it look like? The frying milk came in a cube form and the seller put some cubes of the frying milk in a stick. It tasted VERY GOOD! We loved it!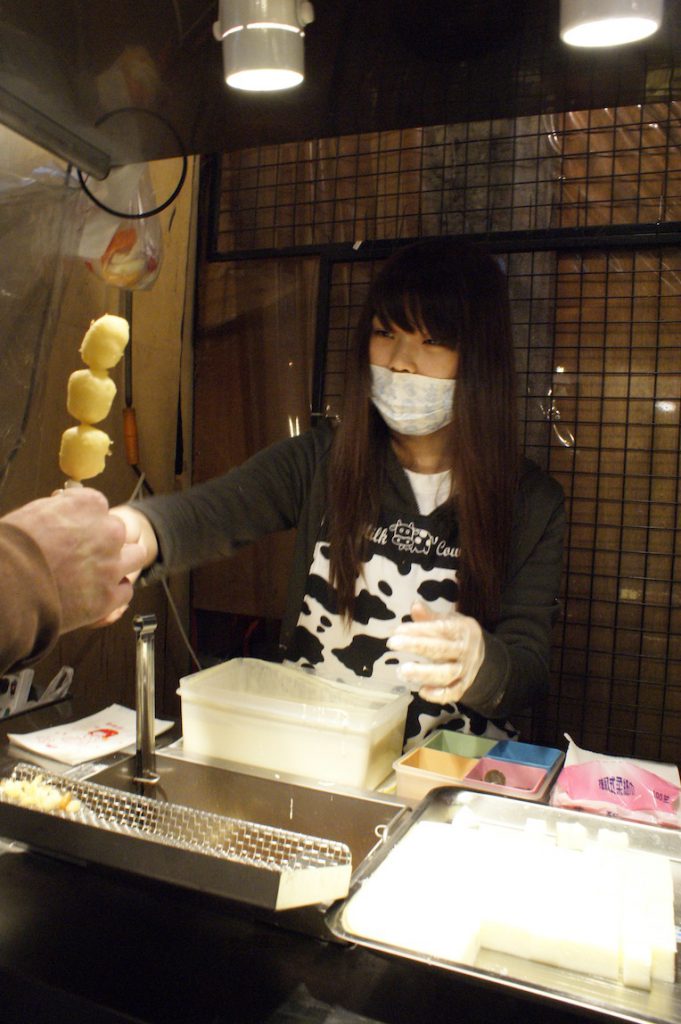 When we walked around the food street area, our eyes fell on a super long line. "What's going on there?", I wondered. Apparently, people were waiting for a small stall that sold "Grilled Portobello Mushroom!" Oh… I said to my boyfriend, "Let's try it! If the long is super long, it must be really good!"
And yes, it was super tasty!!! Yum yummy!!! I think this was my favorite!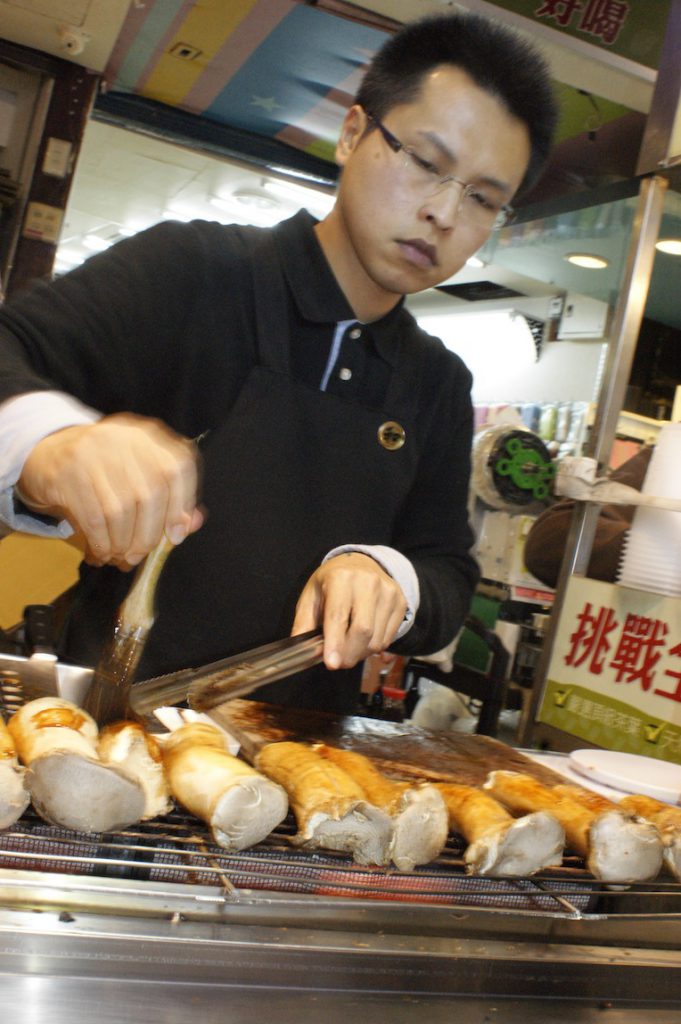 Oh.. among all Taiwanese snacks, one of the things that the locals loved the most must be the "STINKY TOFU". Everybody talked about it, so of course we tried that one, too. It's actually fried tofu with some sauce which has lots of garlic. But, despite the garlic, they must have put something, which I couldn't figure out what it was… and the taste… was like… someone's pee! (not that I ever tasted one!). The smell was also terrible! Eeewww… Yup, I tried it and decided that I wasn't n't a big fan of the famous stinky tofu. Sorry, guys.. I would prefer eating my "tahu goreng" from the street in Jakarta instead! Hehehe.. 😀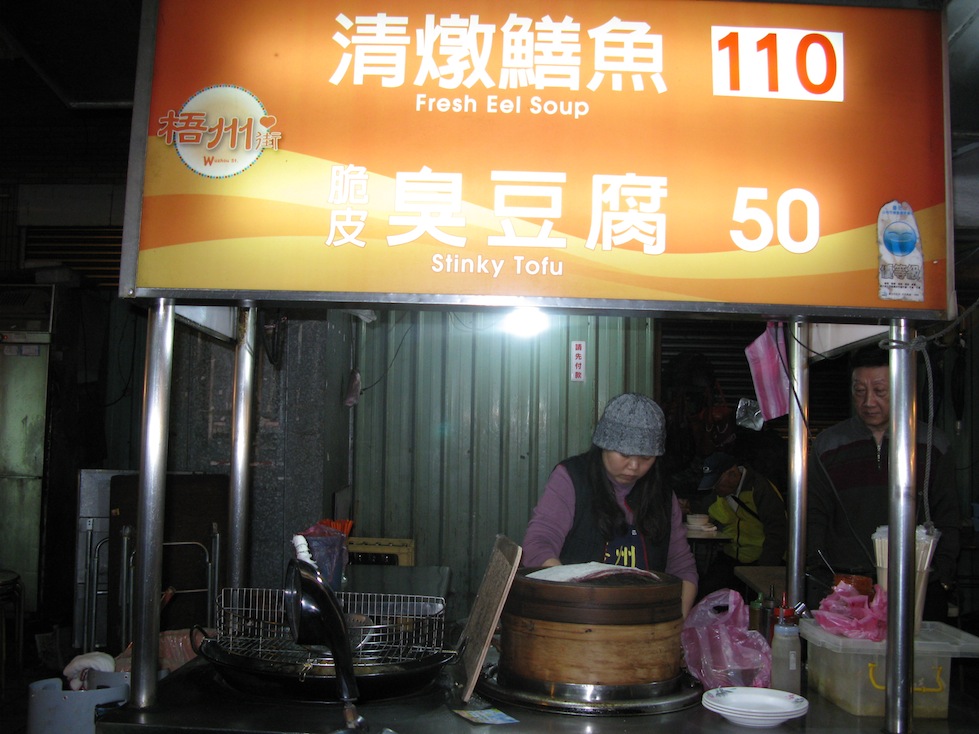 I really loved Shihlin Market! Would definitely visit this market again if I had the chance to come to Taipei next time! We ended our day with our bellies full of Taiwanese snacks! What a day!