(South India trip, November 23rd – 27th, 2012)
My first trip to India! I'm so excited!!
People say, when it comes to traveling in India, it's either you love it or hate it. There's nothing in between. So, let's see either I will fall in love with this country or doesn't want to return for another visit!
I started to feel my India adventure began on the boarding room at Changi Airport, Singapore. There were literally only 3 foreigners, including me, in that room. The rest were Indians, of course :).
And when all of us boarded into the plane, I also noticed that there were so many vegetarians! The stewardess had to stop in every single row and talk to passengers, confirming about their vegetarian meal orders. Being a vegetarian myself, I've never seen anything like this before! Usually, there were only very few vegetarian passengers on the plane and the stewardess only made one or two stops before returning and passing the vegetarian meals. This time, she looked so busy with the super long list in her hands, checking & highlighting the seat numbers written on her list and putting stickers on the related passengers, marking that she/he has a vegetarian meal order.
I asked for Indian vegetarian meal (because it's tastier, trust me!) and the Singapore Airline's stewardess was kind enough to change my meal from the Western Oriental to the one I wanted. Rice, peas and mock meat curry + yoghurt were ready to be enjoyed! Yum!!!
The flight from Singapore to Chennai took around 4 hours. Soon before I realized it, the plane had landed in this bustling city of South India. India.. finally! 🙂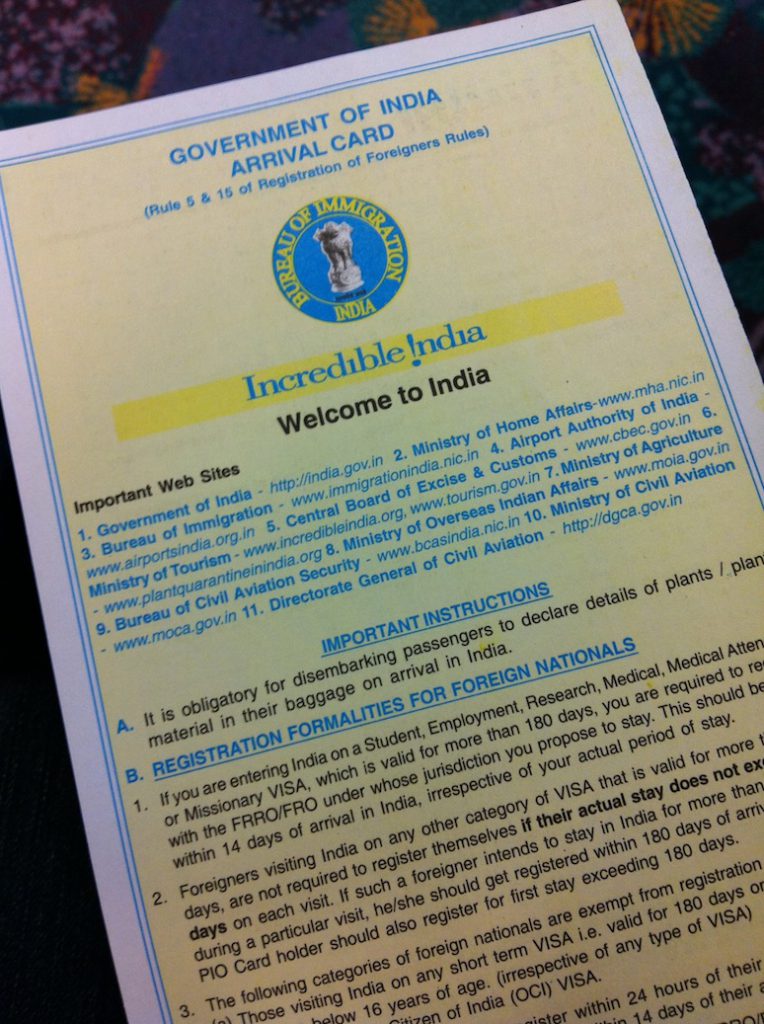 Chennai Airport.
The immigration didn't differentiate the "Foreigners" and "Locals". Everyone was just standing in whichever line they preferred. I spent probably a good one hour waiting in the line. Not sure why it was super slow, but hey, this was not Singapore, where everything worked efficiently!
The airport was pretty straight forward: immigration, 1 liquor duty free shop, baggage claim, custom, then the exit door. No interesting shop to window-shopping or just to wonder around. Also, no ATMs in the arrival hall, which I found it pretty odd. There were some money changer stalls, but they looked dodgy, and I have a rule: "Never exchange money at the airport, anywhere in the world!", because it's such a ripped off!!! I always withdraw money from the ATM as the currency rate's so much better than exchanging money at a money changer.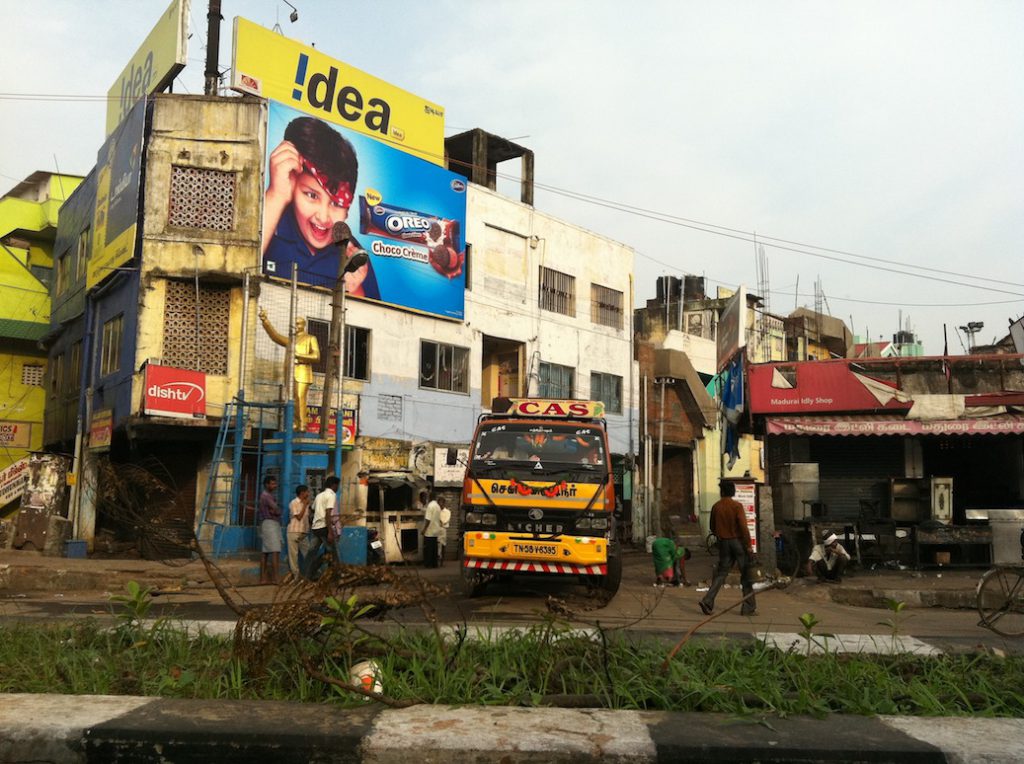 Chennai was not clean. It wasn't modern either. The public transport such as busses were without AC and looked super old. The only thing that looked new to me was the BAJAJ or tuk-tuk! They're all in bright yellow colors with big windows on each side. I liked it!
Some BAJAJ were full of people, they could barely move and sit on it and their heads were popping out of the windows. At least they got some fresh air ;).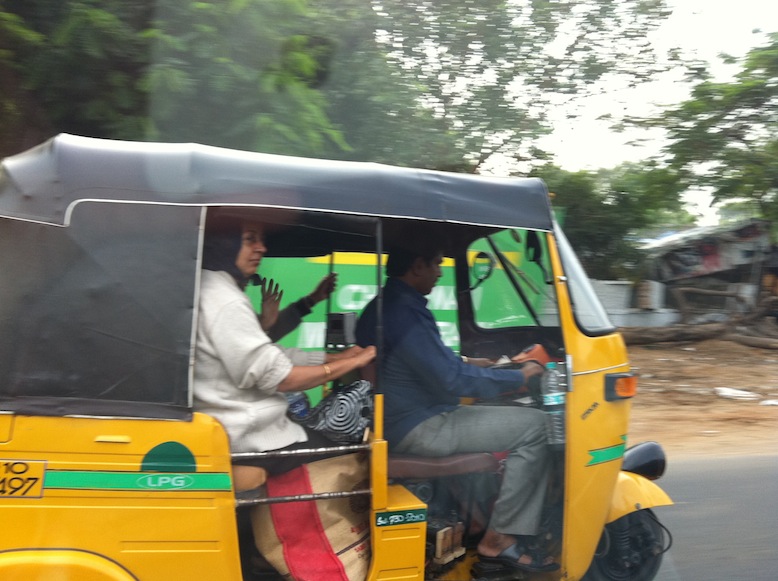 My first impression of India on my first day here:
Cows were everywhere! Seriously. They're hanging out on the streets, eating whatever they could. They're pretty big, too! For Indians, cows were considered holy and it's forbidden to kill them. Cows produced milk, cheese, etc, that's why one shouldn't kill and eat them.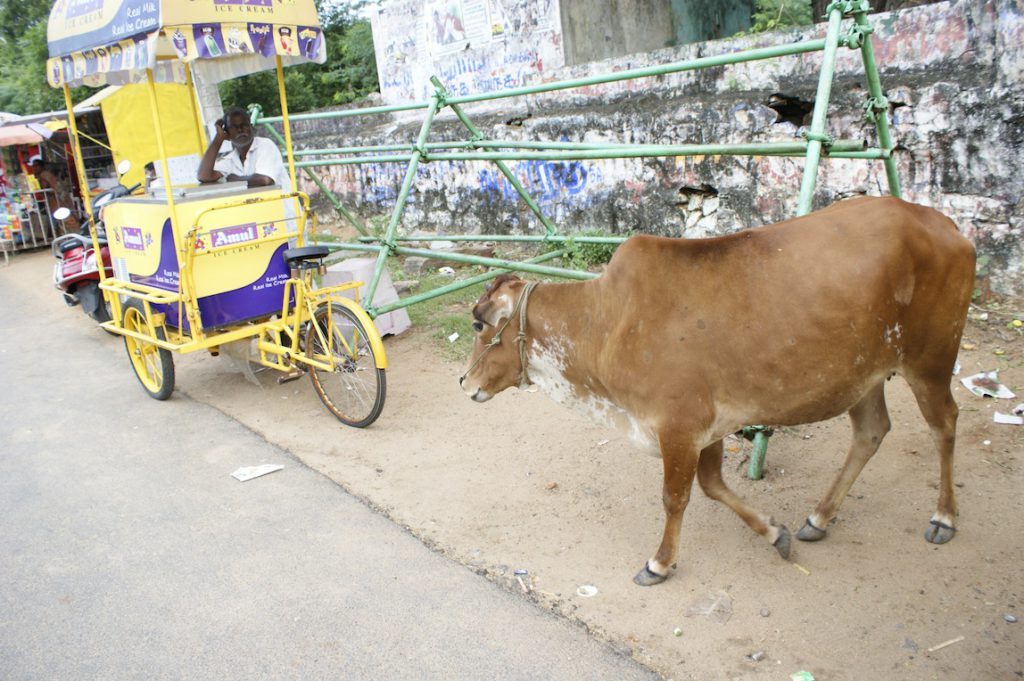 I also noticed all of the female wearing either sari or long pants + long sleeve shirt and a shawl. On my first day in Chennai, I had not seen any lady wearing jeans! It was pretty impressive to me!
Men — they wore short pants… but after I looked at them carefully, they actually wore sarong that they folded in a way so it looked like a short pants! Most of them were wearing it in white, but some of them also had it in the checked motives.
I decided to spend my first 3 days in Pondicherry, formerly known as Puducherry. My colleague suggested me to stay in an interesting place called Auroville, in the area of Pondicherry. I did some researched and found the place interesting, so I went there even though the journey from Chennai took about 4 hours by car!
This place was located around 12 km north of Pondicherry. It was formerly inaugurated in 1968 with the aim of becoming a universal township dedicated to realization of the ideal of human unity. The founder of Auroville, a French woman who was known as The Mother, was a respected figure in India. She had a vision to build a place where it belongs to nobody in particular, but belongs to humanity as a whole.
Today, Auroville has became a special place where people visited and stayed for months, taking part in many activities, be it practicing yoga, meditation, or simply enjoying the silence of this village. The guest houses in this village were all eco-friendly. No plastic bottles. Electricity was limited. Visitors were asked to be mindful of the water usage, etc. It might sound like a hipster place to you, but to me, I kinda liked it because it was different! 🙂
Due to the limited electricity in Auroville, it took Magesh, my driver, an hour to find the "Afsanah Guest House"(we were lost in Auroville!). The roads in Auroville were all dirt-path and it felt like being in the jungle! Street signs/directions were very limited. If one didn't know the area well, it was very easy to get lost. Pretty scary especially in the middle of the night, I must say! So, walking alone was definitely not recommended!
It was such a relief when Magesh finally found the guest house! And I fell in love with Afsanah GuestHouse right away. The place was so calm, peaceful, quiet and beautiful. Even at night I could tell that it's beautiful.. I couldn't wait to see its beauty in the morning!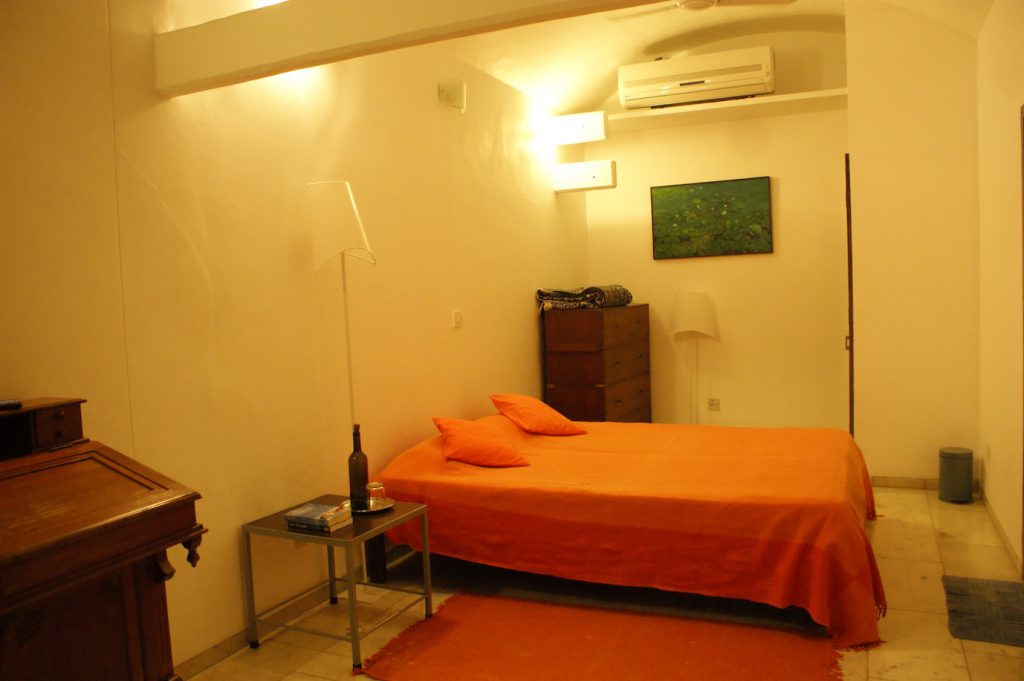 "Good night, Auroville. It feels good to be here. It feels awesome to finally be in India. I feel so grateful", I said before resting my head on the orange bed… 🙂
[to be continued…]