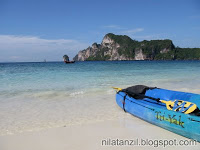 Thailand: (January 5th – 10th, 2009)
White sand beaches… crystal clear water… beautiful limestone cliffs… what a paradise island! Koh Phi Phi (Koh means island) is definitely an island that can easily steal many hearts…
"Phin… phiiiinnn!!!". That was the first thing I heard when I landed on the island. Before I knew it, a wooden carriage almost hit me! What the hell??!! That's the situation at the pier. Busy. A lot of people walking around with their heavy suitcases, some locals pull carriages and try to warn other people to clear the street by yelling, "Phin phiiiiinnnnnn!!" (it's supposed to copy a car's honking sound. I guess, for Phi Phi'ers, that's how it sounds :D).
I took a long-tail boat to go to the Andaman Resort. It's actually a walking distance, but since I didn't book a room yet, there was no one from the resort picked me up at the pier… and carrying a suitcase plus a dive gear bag were just too troublesome for me. It's a holiday. It's supposed to be easy and relaxing ;).
I met up with my Italian friend who happened to be in the island as well. We spent the whole day chilling at Long Beach, in which can be accessed by chartering a long-tail boat, too with the fee of 100 Baht/person/one way. It's a less busy beach and the water is nice for swimming. The scenery? Lovely. Every beach on this island has breathtaking landscape. Really. Swimming, sunbathing, eating, drinking and sunbathing again until we fell asleep on the white sand beach. What a relaxing holiday!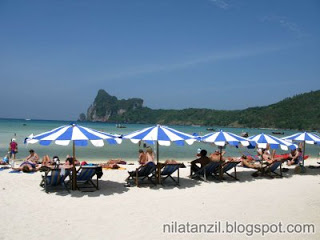 When the night came, I checked out the night scene. Carpe Diem is one of the coolest bars located just across my resort. It has a fireman show every evening. Two of them are very skillful, but the most impressive one is a young girl, around 7 years old and a little boy, around 5 years old, who are able to play around with the fire sticks! Wowww…. These kids got so much applause from the tourists. I wonder how long they practiced until they're able to carry such a show!
My Italian friend showed me the night life in the heart of the island. Omigod. I didn't expect that it was actually very crowded in the downtown area! A lot of tourists and backpackers in this area. I found it a bit chaotic. There, I realized that this place is very touristy! However, the whole island has a nice vibe. It's touristy but not sleezy, if you know what I mean. The type of travelers who come here is different with the ones in Phuket. I felt safe here… and I didn't really see any sleezy guys and working girls around. It's all good ☺.
The downtown area is full with souvenir shops, bars, restaurants, dive centers and travel agents shops. We walked around, going from one alley to another until we ended up at a beach party with a lot of people dancing on the beach, a dj playing high volume of dance music at the corner, some tourists dancing on the "stage" at the center of the so-called dance floor (if we can call it a dance floor) and a bar that was always full with thirsty tourists. This place is called the Ibiza Bar. And I was happy to find that they have a brand of vodka that's familiar to me here (Absolut, that is… it's pretty rare in the island. Forget about Greygoose and Belvedere.. we're lucky enough to find Absolut!). Most of the bars here use a local brand of vodka, which is called "Contessa". And guess what… when I ordered 2 shots of Absolut vodka, the bartender just opened the sealed bottle! Hmm.. that explains they only serve the local vodka here! And.. of course I had to pay more from drinking a not-regular-vodka brand ;).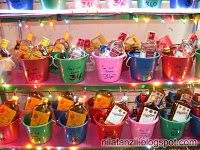 When the night comes, you will see a lot of tourists walking around carrying a bucket on their hands. Yep… that's the most popular drink here. One can choose between vodka, rum, etc and as the mixer: tonic, soft drinks, etc. People love to drink from a bucket because it's cheaper (starting from 180 to 340 Baht/bucket). While Contessa is the local brand of vodka, Samsong is the local brand for rum and that's what you'll get when ordering a bucket, most likely. Be prepared… it's evil!!!
After two shots of vodka and two glasses of vodka soda, I was successfully tipsy that night. Hahaha.. Fortunately, I still could find the way back to the resort, even though those small alleys looked all the same when one's tipsy! Hahaha…
That's how I ended my first day in a paradise island on earth… with the house music beat still stuck in my head! 😀