Being in Bali this time, I took a trip to the West of Bali… to Menjangan Island. Menjangan itself means "deer". It's been said that during dry season in Menjangan Island, the deers migrate to Bali island by crossing the sea! And yes, I saw some deers when I was there :D, although I didn't witness them swimming on the sea… it must've been cool, though!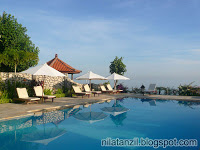 I stayed for a night in Adi Assri resort. It's a new resort, quite spacious and pretty. Being there, I felt like being in a garden as there are plenty of trees and plants around the bungalows. The rooms are nice, clean and neat. You'll be welcomed with different types of flowers on your bed! Seriously. Nice, huh? 😉 And the bathroom? Just like most of the bathroom types in the villas in Bali, half of it has no roof. So, you basically have the feeling of taking a shower outdoor…
The swimming pool area is nice, too… it's facing the beach with a view of mountains on your back. It has a relaxing ambience, especially in the afternoon. One could enjoy the beautiful sky changes its color during the sunset. But please, don't expect a white sand beach… because the sand here is greyish, almost black. I'm not used to it, so maybe I didn't really appreciate it. Am sure, if I spent more time there, I would appreciate the black sandy beach :)…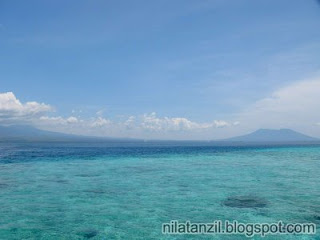 When we arrived at the resort, we didn't have that much time to relax as we're going to scuba-dive right away! So, after checking-in, we all went to the harbour where our boat was already waiting for us. There's a small "warung" at the harbour where we can order a lunch box and choose our drinks. I ordered vegetarian fried rice.. and to my surprise, it came in a very nice plastic lunch box! Wow! It was the first time for me, on a dive trip, to have such a well presented lunch box meals! Hahaha…
The first and second dives, we dove at Post 1. Omigod… beautiful corals they have here!!! I've been told by my scuba-diving friends that diving in Menjangan Island is nice… honestly, I didn't expect that it would be THIS NICE!!! The corals are very rich and colorful. You name it… pink, purple, blue, green, orange… all can be seen in one spot (can you imagine?).. from soft corals, hard corals to gorgonian fans. I loved it.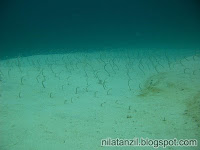 Garden Eel is particularly amazing for (of course) its numbers of garden eels "dancing" without living their home in the sand :). I also saw bumphead, titan trigger fish, cuttle fish, many scorpion fish here. The scorpion fish are colorful and HUGE! And I saw a lion fish swimming elegantly… I wanted to take a close up picture of its face, but was afraid that it would attack me! :p So, I decided to stay away from him… hehehe…
It was such an easy dive. No current. No surge. Good visibility around 20 meters. What else could you ask for? Big pellagic? Hmm.. Menjangan isn't popular for its large fish. It's the place for those who enjoy being surrounded by beautiful and colorful corals all around you.
For the lunch break, we went to Menjangan Island. It was very hot, the sun was strikingly shining! The three of us (me, the dive master and my friend who lives in Bali) sat on a bench under the tree, opening the luxurious lunch box, couldn't wait to taste the food! I got a banana and crackers to accompany my veggie fried rice. It was such an enjoyable break… I wish there was a hammock nearby, I could fall asleep easily afterwards! And with the beautiful view around me? Am sure I'd dream of heaven.. 🙂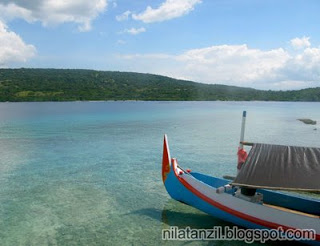 After the second dive, we went back to the resort. It took us an hour from the dive site to the harbor and I took the opportunity to take a little nap on the long-tail boat :).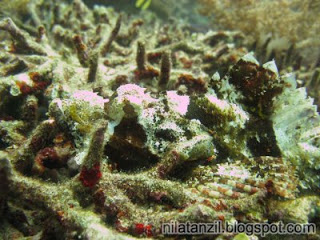 The afternoon went so fast. I didn't really do that much apart from relaxing on the reclining chair by the pool and deciding to leave after the mosquitos were fat enough from sucking my blood in half hour! 😀 We then strolled down the street trying to get something to eat, but after a long walk, we could only find 3 restaurants!!! (and these restaurants were all empty and didn't look promising!) Oh dear… We just had to choose one of those… I had a stir-fry morning glory and it tasted so-so. Nothing's special, but not bad at all.
The next day, we did another 2 dives. This time, we dove at Post II. Menjangan Island is famous for its wall dives. And I had to admit, the wall dives were sooo pretty, too!!! Again, I saw many beautiful corals and plenty of giant sea fans! The usual suspect fish were all there, too. You name it, from clown fish to goat fish and from nudibranchs to… seahorses! 😉
Today's dives were easy, too. No strong current, water temperature was 31 degrees Celcius (warm, right? niceeee!!!), visibility was 20 meters. Amazing wall dives.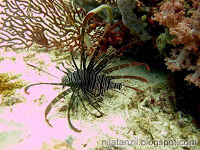 I personally think, in terms of the corals, Menjangan Island has more beautiful corals than Similan Islands, Thailand. Really. And I'm glad to realize that… oh.. my country is so beautiful! Being there, in the middle of the sea, I looked around and saw beautiful mountains on the left and some other islands on my right, with another mountains at the far right. And I felt how lucky we were, to be blessed with such stunning natures all around Indonesia. Not only on the surface, but also under those clear water in the deep sea!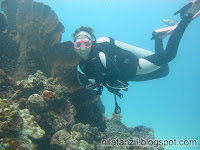 We headed back to Legian feeling satisfied. What a nice dive trip. And on the way, of course, we stopped in a small street vendor that sold… DURIAN!!! Yayyy!!! It's durian season, so it would be such a waste not to have a durian or two as our snacks! :p Obviously, the 3.5 hours trip back to Legian wasn't that tiring. The mind was happy. The eyes were happy. The heart was happy. And the stomach was happy, too! 😀