(China Travel Blogger trip, November 27 – December 5, 2013)
November 28th, 2013.
It was such a beautiful day in Lombok. The sun was shining brightly and the blue colors coloring the sky above us. We're ready to go to the Gili Islands for some snorkeling. Yeahhh!!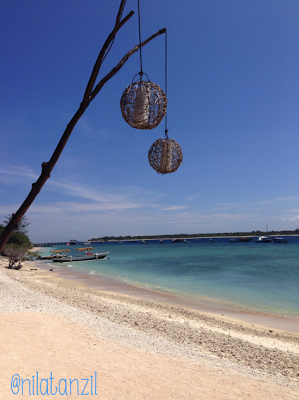 From Teluk Nare, the journey to Gili Trawangan took only
about 30 minutes by speedboat, depending on the winds and currents. Gili
Trawangan was the famous island among the Gili Islands and it has the best
infrastructure compared to Gili Meno and Gili Air. A lot of tourists – be it a
backpacker or a luxurious traveler, loved to spend days on Gili Trawangan, just
to relax on the white sandy beach during the day or snorkeling in the clear
water and greeting the sea turtles (if you're lucky!), and then have some fun
at the cafes drinking beer and cocktails listening to reggae music or dance
music at night.
Gili Trawangan was also known as the "party island". This
island attracted young and trendy people from all over the world. Stylish blonde
girls in their summer dresses walking down the beach were common scenes here. And
guys in their shorts and sunglasses strolling down the street in their rented
bicycles. The island has a laid-back vibe, perfect for travelers who just
wanted to laid-back and enjoy the easy lifestyle. One wouldn't hear any car
honking, because there's simply none here. One would only hear the sound of
bicycles' bells and the steps of horses mixed with the relaxing sound of waves
here.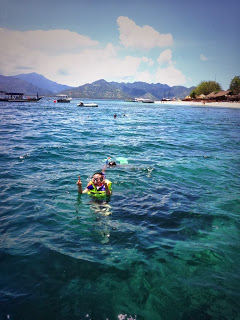 Fan, Yoyo, Pan Pan and Da Jiang has never snorkeled before.
On the speedboat, they got a brief explanation on how to snorkel. They got
excited! And… the three of them also couldn't swim! But hey, no worries. You
could always snorkel wearing life jackets J.
As soon as they put on the life jackets, masks and fins,
they jumped off the boat and ready to explore the marine life of Gili
Trawangan.
"Woaaa.. so many fish!"
, Pan Pan said with great excitement. Thousands
of small fish swimming around in a group and they seemed didn't care with our
presence there.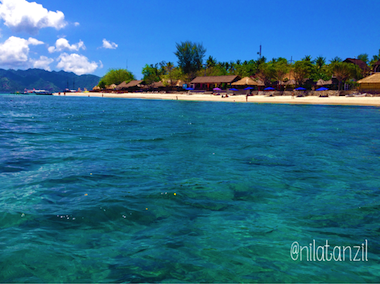 The next stop was
Gili Meno
. This time, the four of them
felt more comfortable with all the snorkeling gears. The guide took them to a
coral rehabilitation spot where there were many butterfly fish hanging out.
They got so excited being exposed to the fish very close to them. Sometimes I
heard some screaming of excitements. What a fun day!
We wanted to snorkel at the Ship Wreck, but too bad the
water was too choppy. I scuba-dive here once and loved it. There were some
coral gardens living on the wreck and it was cool to swim next to the ship
wreck. It gave me some eerie feelings. It would have been nice to do some free
diving here, too, I thought. But as the Chinese travel bloggers were still
beginners and most of them couldn't swim, it was too risky to let them snorkel
on this spot. So, we decided to have lunch at Villa Ombak in Gili Trawangan
instead. Eating after swimming in the sea was the best! Somehow I always felt
so hungry after swimming, snorkeling or diving. Forget diet. Let's eat!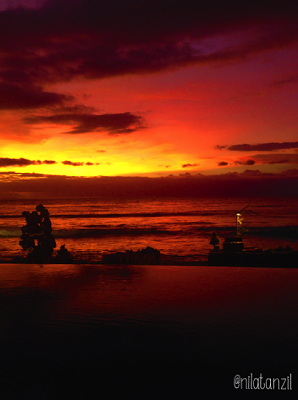 Headed back to our green
Qunci Villa
in Lombok, we had
sometime to enjoy the sunset. It was magical. I didn't even need to retouch
this photo!
We ended the day with a tasty dinner at Quali Restaurant at
the Villa. Good food, good friends, and good spot by the beach. What else could
you ask for to end the day of your holiday?
For more info on holiday destinations in Indonesia, visit www.indonesia.travel.