(Togean Islands & Gorontalo trip, December 24th, 2013 – January 2nd, 2014)
It was still early in the morning when my alarm rang. 3am. Ouch. With eyes still half opened, I got up of bed and tried to get ready. That day, I was flying to Gorontalo for Christmas and New Year's holiday!
The flight from Jakarta took about 4.5 hours to Gorontalo. We reached there around lunch time and got plenty of time exploring the city. Pak Udin, the guy who picked us up, took us to Otanaha Fort. The fort itself wasn't very appealing, but one could see the view of Limboto Lake and Gorontalo city from above, which was neat. Also, I loved the sound of roosters from the local people who lived around the area and also the sound of birds chipping. Very different from the sound of cars honking that I always heard from the balcony of my apartment in Jakarta :). The sound of nature was definitely much nicer.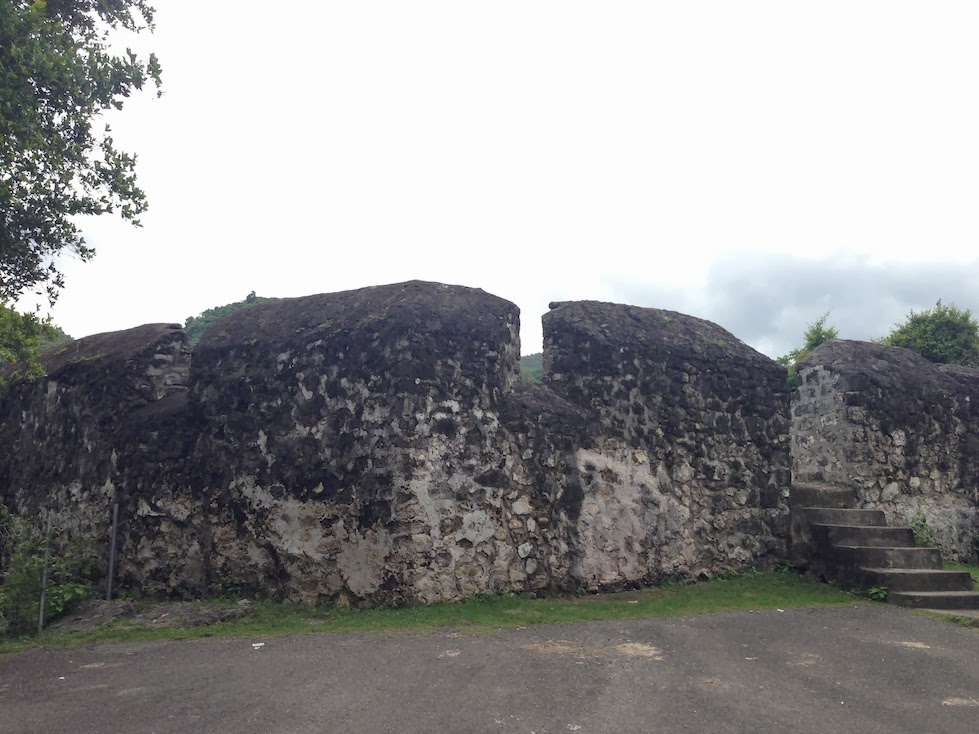 While waiting for our ferry, Zack, our friend Farid and I chilled at a small "warung" (cafe) across the harbour. We found people played a toy that has two balls hanging, looked like a pendulum, and got very obsessed with it. Zack and I tried playing it a couple of times, but we couldn't get around it. It was tough! Check this out.
Apart from playing the toy (you'll see people carrying this toy all over Gorontalo), apparently people loved Dangdut music here. And they loved playing it out loud. Some of them even dance while walking around the harbour. Oh, so much fun. And I met a guy who might be a professional dancer in his previous life ;D. "Tarik, maaaang!" (it's an expression for "Dance your ass off, dude!).
After waiting for about 4 hours at the harbour, finally our ferry departed! Yeaaayyy!! I bought an economy ticket of Rp63,000.- and rent a crew's cabin of Rp450,000.-. The cabin has 2 bunk beds (so, there were 4 beds) with AC. It wasn't as nice as the Captain's cabin that I rent during my trip in Banda Neira, but it was actually much better than sitting on a chair for 12 hours on a ferry.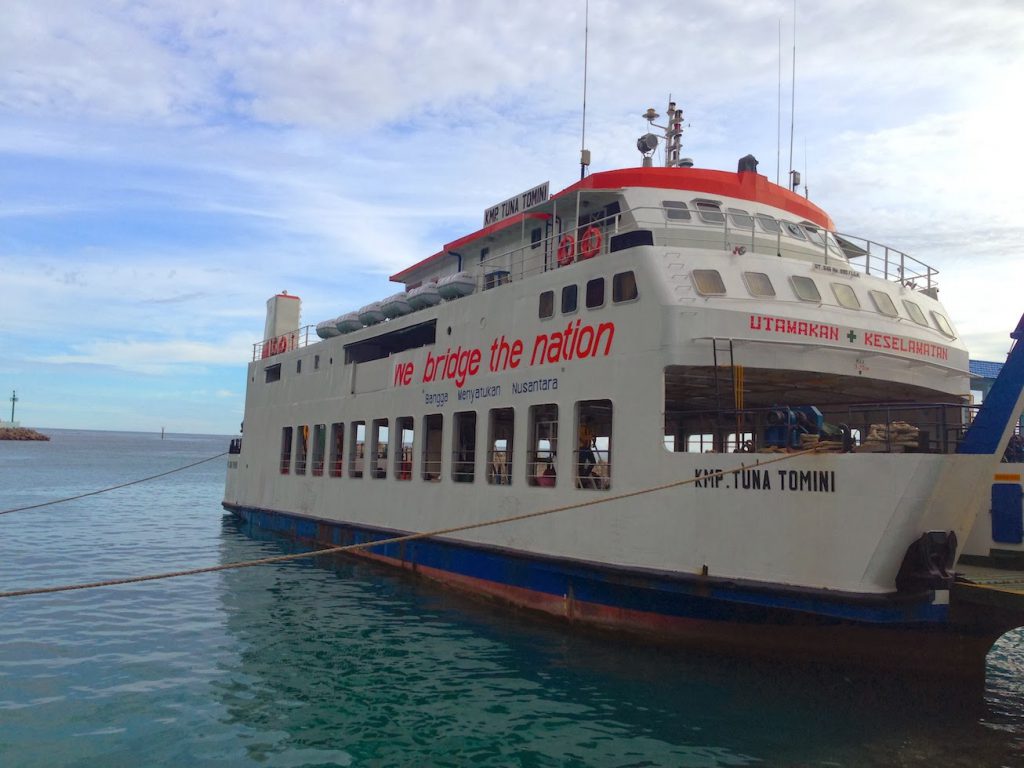 I was just happy to see beds, after a 4 hour of sleep last night! As soon as the ferry moved, I ate the nasi kuning package that I bought from a small warung and hit the bed right away.
"Knock knock". Someone knocked on my cabin's door. A skinny Indonesian guy with black shirt stood in front of the door and greeted Zack and I, "Halo.. saya Acho dari Black Marlin. Welcome to Wakai!", he said. Next to him was a lady with her big smiles. "Hai Ibu Min?", I asked. She said, "Yaaa.. kamu Nila?", she said. "Ya, Bu. Saya Nila!". She shook my hands and said with her big gentle smiles, "Oooh.. akhirnya bertemu juga. Selamat datang di Wakai!" (finally we met! Welcome in Wakai!). Ibu Min was the staff of Black Marlin and the most communicative one. She was always very responsive in replying to my ams-es. She said, "Don't worry, we will pick you up in Wakai by speedboat to go to our resort". And she did.
Black Marlin Resort was located on Kadidiri Island. After 20 minutes of speedboat journey from Wakai, my eyes fell in love right away with the exotic view as soon as the boat approached the Kadidiri Island. Palm trees, turquoise water, and a cute white beach. I looked at the water and smiled. It was so clear, I could even see the gorgeous corals under the boat. "It's going to be an awesome holiday!".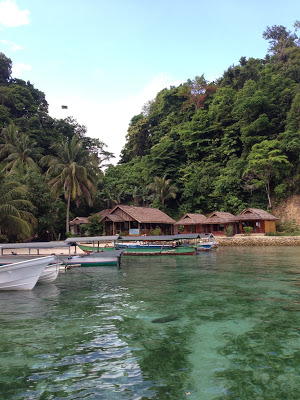 Togean Islands were an archipelago of 56 islands and islets in the Gulf of Tomini, off the cost of Central Sulawesi, Indonesia. The area were famous for its dive sites, but having said that, there were only few divers coming here, so it was nice because you wouldn't see any other divers in the water when you dive.
Every morning, my eyes were spoiled by stunning view of the blue sea like this one: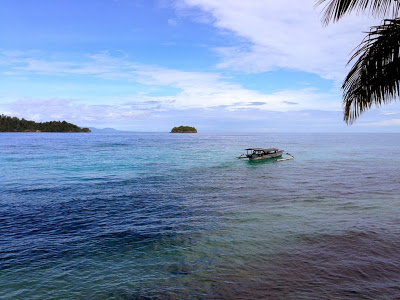 And that morning, on Christmas Day, I did two dives at the Gap and Mini Canyon. The visibility at the Gap was insane. It was more than 40 meters! Super clear water, it was amaziiiiing! And the corals were so gorgeous. Loved it.