vIt was such a sunny Saturday in Singapore when the colorful mini bus with "Uniquely Singapore" print on it picked me up in front of my apartment. That day I had a chance to accompany the winner of Singapore Tourism Board Wacky Weekend Contest 2009 to go around the city. The winner was allowed to bring 4 friends on this trip. Oh, how lucky to be her friends!
And guess what… the winner was actually my ex-colleague when I worked at a reputable PR firm in Jakarta! Hanny brought Nia, Dimas, Chika and Agung. Two of them (Nia and Dimas) were also my ex-colleagues at that firm. Agung, I knew him coz he's a journalist, while I met Chika on the Pesta Blogger 2008 where I was invited as one of the guest speakers on how to promote tourism through blog. What a small world!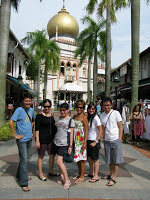 Our first destination was Arab Street. My favorite area in Singapore! I love Arab Street as it has such a unique vibe. Every time I go there, it feels like I'm in one of Middle Eastern cities. The place is far from the image of Singapore: skyscrapers, modern buildings, big shopping malls, etc. None of these things could be found in Arab Street. Instead, one will walk on small alleys with two-storey of old colonial houses on each side. Very nice .
Our first stop was to Istana Kampong Glam. It's a former Malay palace in Singapore and now it has been converted into the Malay Heritage Center to show the history and culture of Singapore's Malay community. Not far from the Istana Kampong Glam is Sultan Mosque, which located at Bussorah Street. Every time I go to Arab Street and meet up with friends, this mosque has always been the meet up point, because it's so easy to find due to the size and its strategic location. There's no way one will miss the mosque's massive golden dome. Sultan Mosque is the largest mosque in Singapore.
Hanny and friends seemed to enjoy strolling down the street in front of the Sultan Mosque. A number of jewelry, clothing, souvenir and handicraft shops can be found there. And before I knew it, some of them had successfully carried shopping bags from the shops around! Wow! You girls were fast!!!
We went to Jalan Haji Lane, one of my favorite shopping areas in the city. Not a lot of people know about this street. Most of the people who come to Singapore always spend hours to shop in Orchard Road.. but actually, there are other places in the city to shop! One of them is this small alley. There are a lot of nice boutiques who sell vintage stuff, including accessories, cool designed t-shirts, summer dresses, sunglasses, etc. It's highly recommended for youngsters who are into fashion and love funky stuff. Not only that, this street offers stylish furniture and home decorations, too! I can spend hours here, hopping from one boutique to another! Love it!
Bugis Village is another area in Singapore where young people spend their pennies to buy funky clothing and accessories. Everyone in the group got panicked here! They bought a lot of stuff for themselves and souvenirs for friends, such as bags, t-shirts, earrings, pins, etc. We spent two hours there and by the time we left the place, everyone carried a lot of shopping bags! Good job, guys! Dimas said with a big smile, "I didn't expect we could bargain the price here!"
We had a late lunch due to the heavy shopping. Since all of us felt like having Indian food, we went to Pot Pourri restaurant for an excellent Indian taste. A set menu from appetizer and dessert made our stomach happily full! "Omigod… the naan is very tasty!", Hanny commented. We all agreed. Not only the naan, we all were satisfied with our lunch meal today. Yuummm… and the dessert… omigod, the dessert… hmmm… it was one of the best chocolate mousse dessert I've ever had! The chocolate was very rich, yet soft in texture. Mmmmm…
As people say, "Visiting Singapore won't be complete without shopping in Orchard Road", all of us followed the "tradition". Takashimaya was one of the shopping malls that we visited apart from Wheelock Place, where my favorite bookstore, Borders, is located. All of us continued our shopping frenzy. I think "shop til you drop" was our motto that afternoon.
When the sun has disappeared, we started to feel hungry. Secret Garden was the chosen restaurant to spoil our stomach that evening. Starting from salad and spring rolls as the appetizer, we continued to enjoy a different set of meals until dessert. Woah! I think we ate so much today. Seriously. I might have to swim for 2 hours to get all the calories burnt afterwards! Ha!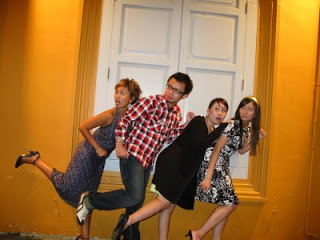 I personally enjoyed taking pictures of the huge windows and colorful door of the restaurant. As for the ambience, I think it's perfect to go there with a partner as the place itself has a romantic vibe ;).
Saturday night in Singapore, where to go when one feels like dancing? I would say, Supperclub! It's the newest club in town and it has become a place for the party-goers in town to "see and to be seen". The club has two floors with long sofas and big white cushions here and there… making it a comfortable place to chill! It was the perfect spot to end the wacky weekend in Singapore… indeed! While Hanny and friends left the club earlier, I stayed there and continued dancing with my other friends… all night long! Wooohooo… it's party time!!!