Almost everyone who is into
scuba-diving
addict wants to go to
Komodo National Park
to witness the beauty of the underwater world. Komodo National Park has a reputation as one of the most beautiful dive places in the world. With 1,000 species of
fish
, 385 species of
reef building corals,
a home to
sharks
,
manta rays, turtles
, and many more! I feel very lucky to have the opportunity to entertain myself every weekend to enjoy this underwater beauty. Today, I went to the middle part of Komodo National Park with Dive Komodo and a group of divers. First dive, we went to
Wainilu,
nearby
Rinca Island
. The water temperature was a bit cold today (well, at least, cold for my standard!). It was 25 degrees Celcius. Brrrrr!!! Wainilu is a dive spot, special for
muck dive
. I saw a tiny
pipe fish, zebra crab
, many
shrimps
, tiny yellow
boxfish
(so cute!), a lot of
razor fish
, cuttle fish, several nudibranchs with different colors & species, a weird-looking scorpion fish and many more. We went down to 16.6 meters, the total dive time was 53 minutes. Enough to make me feel cold under my 3 mm wetsuit.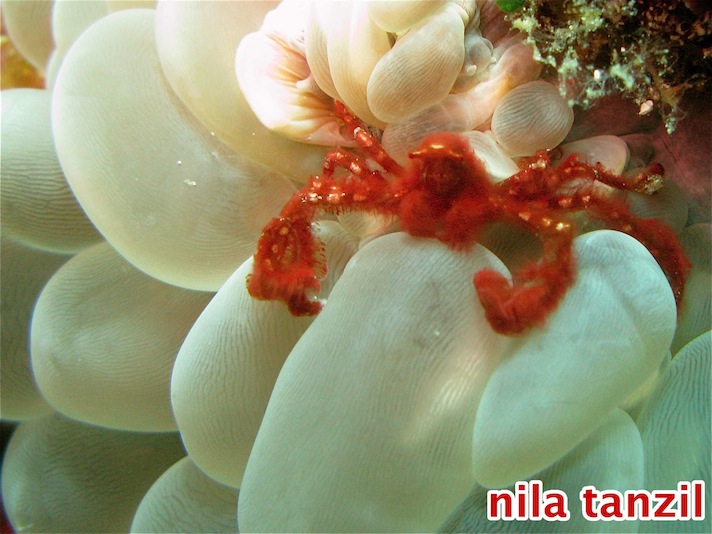 After doing surface interval, we went to another dive site, called
Penga Kecil
. The water temperature was 26 degrees, slightly "better" than the first dive. We went down to 22.1 meters and saw some
turtles,
many nudibranchs,
orang utan crab
looking pretty on
bubble corals
(my fave!), some white tip reef sharks – including one shark hiding under a table coral as if it was playing hide and seek with its other fellow sharks, some giant trevallys and really BIG jack fish! Wow. I almost shocked when I was looking around quietly and suddenly the giant jack fish, around 1 meter, swam in front of me! Wow. What was that???! Hahhaha… After 55 minutes, we decided to go up and warm ourselves under the sun. Brrr… even 26 degrees Celcius still too cold for me! :p Third dive was in
Karang Makassar
. This site is famous for its
manta rays.
Yayyyy!!! The water temperature was 26 degrees, visibility wasn't great, around 10 – 15 meters. We went down and swam around, suddenly we saw 1 manta ray from far. We swam closer and there he was, hovering at the cleaning station, surrounded by small fish whose happily cleaning his body. After enjoying the amazing creature, we continued our dive and stopped again as soon as we saw another manta ray hovering above some corals. So cool! In total, we saw 5 to 6 manta rays on this dive. Everyone's happy ☺. Obviously, divers couldn't get enough of manta rays, could they?
At the end of the dive, we bumped into a school of
bumphead parrotfish
! OMigod… they're around 50 of them and all in big size! Soooo nice!!! We also saw a napoleon wrasse swimming in between a school of oriental sweetlips. The napoleon wrasse looked like "a guardian angel" for the sweetlips. Hehehe.. What a nice day. All dives that I did in
Komodo National Park
never failed. There was always something new, something exciting. Every dive was always different and beautiful. That's why I fell in love with this place…