Some snaps from the trip to Yogyakarta this month…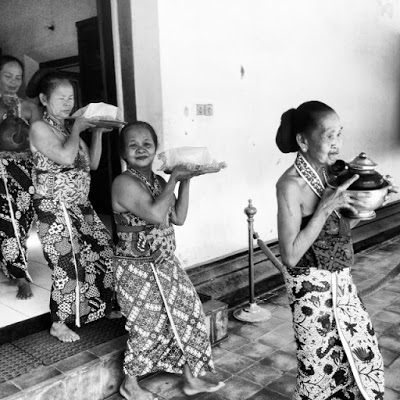 (above) These ladies above are the "Abdi Dalem", meaning people who work at the Keraton Yogyakarta (Yogyakarta Palace) to serve the Sultan & his family. I'm lucky enough to bump into them as they walk in to one of the buildings in the Palace compound for a tea ceremony. Every day, the "Abdi Dalem" have a specific tea time, where they enjoy a glass of tea and traditional snacks, while chatting with one another. They walk barefoot, even if it's hot outside. And yes, they walk fast, almost half running. One of them say, "The ground (outside) is so hot, that's why we have to walk fast!"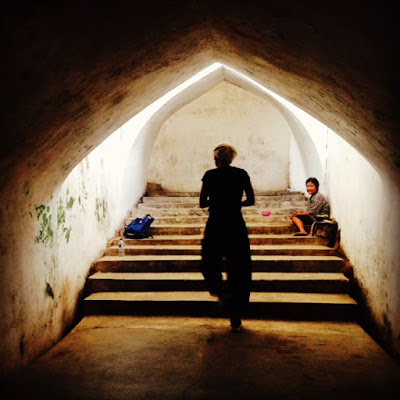 (above) This picture is taken in the underground tunnel on the way to the old mosque "Sumur Gemuling", Taman Sari. My friend, Windy Ariestanty, is on her way to grab her bag and chat with the lady. She spends a few minutes chatting with this lady. When traveling, it is actually the people who make the journey memorable.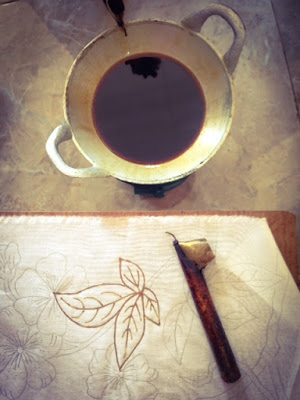 (above) Learning how to make batik at the Museum Batik. It is not as easy as it seems. I find batik painting needs a lot of patience and a peace of mind. If one's mind is stressed out, the lines would be messy. On the other hand, when one's mind is in peace and relax, then the outcome would be beautiful. Just like our life, isn't it? 😉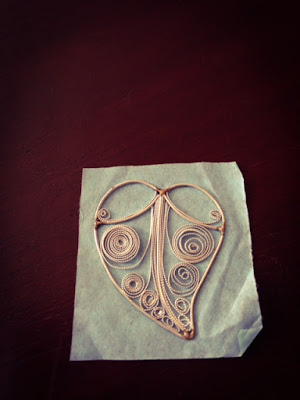 (above) How about learning to make some silver jewellery? In Kota Gede, one could learn to do so. The actual workshop takes more than half a day, but on this trip, we only spend a few hours, designing a silver pendant. This is how mine looks like. Just like batik painting, it needs a lot of patience to stick the thin silver sticks into the heart shaped pendant. Sometimes I just want to give up. But I'm stubborn enough to give it up easily. So… voila! I've finally made it! Cheers to my masterpiece! 😀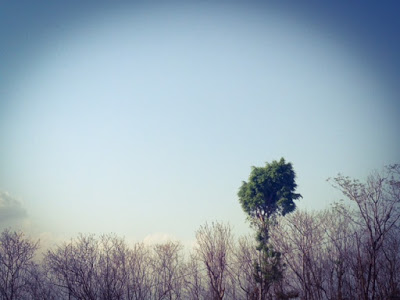 (above) This photo is actually taken in Ratu Boko Temple in Sleman regency, not far from the Prambanan Temple. I glance over to the left of the temple and my eyes can't stop looking at this scenery. It somehow reminds me of winter in Europe. The dead trees without leafs. But, what makes it different is that one healthy tree in between those no-leafs tree! How could he survive the dry season, while all of his friends have got not a single leaf on their branches? A survivor, he is.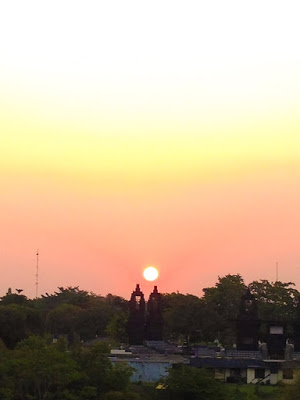 (above) This sunset picture is taken at the Hindu's Prambanan Temple, built in the 10th century. The Prambanan Temple itself is a complex consists of 240 temples! Head your way to this historical complex just before the sunset and enjoy the serenity of the temple as the sun goes down. If you happened to be here during full moon, treat yourself to witness the Ramayana traditional dance performance here in the complex, with the Prambanan Temple as the background. It's beautiful :).
*Thank you the Ministry of Tourism of the Republic of Indonesia for having me at this #INATopBucketList #WonderfulIndonesia trip.