(Laos trip: April 21st – May 2nd, 2009)
Notes from my travel journal 🙂
Am sitting at the terrace of Mekong Fish Cafe, by the Mekong River. It's raining outside, so I'm taking a break from walking around to chill and soak up the relaxed vibe of the city…
My first impression of Luang Prabang is…. "WHAT A CUTE CITY!"… I love it!
Luang Prabang is very cute with a lot of French colonial houses scattered around every corner of the city, small alleys with bougainvillea flowers in front of the houses, cafes with dim lights and cute outdoor terraces. So lovely! It feels like I'm in one of the European cities. Seriously.
I spend my first day there walking around the city center, in which located nearby the great Mekong River. I find a lot of temples as I walk along (can't remember the names, as I think there is a temple in every 10 meters! hahaha). There are a number of cute cafes, bars and restaurants around the area, too. I forget how many times I say, "I love this place" that afternoon! 😀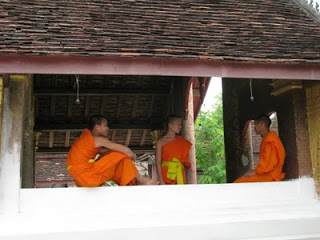 As I walk around, at one point, I see three young monks chillin' in a temple. They're all wearing bright orange robes wrapping their thin bodies with their bald head shining every time they're exposed to the sun. I ask for a permission to take some photos of them. They nod. One of them asks me, "Sorry… where do you come from?". I reply, "Indonesia". He asks me again, "How long are you going to be here in Luang Prabang?"
Then the conversations start. His name is Wang Tho, 17 years old. He's been living in a temple for 1 year. He's actually a novice, not a monk. To be a Buddhist monk, the age should reach 20 years old first. Aha! I didn't know that! 🙂
He speaks broken English, but I admire his willingness to learn and his courage to greet people to practice his English. He offers, "Do you want to see my school?"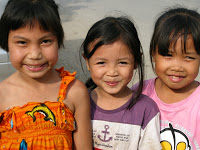 We walk to the back yard of the temple and there I find a simple school building with 5 class rooms and a "teacher's room". In one of the classes, there is one old computer. Wang Tho says that he studies English at this school in the morning, from 10am to 11.30am. He introduces me to his teacher, named Say, whose English is perfect! Another teacher, Pheng, joins us for a chat. They're so nice and welcome to foreigners… and… they even invite me to join their English class the next morning as a guest teacher! Wow!!!
I notice Laotians are very open, warm, friendly, nice, sincere and genuine. Love 'em! Even the kids aren' shy to greet us and ask with their broken English, "What your name?"
Wang Tho invites me to come to the temple in the morning to witness the rituals of collecting the "alms". It starts at 5.30am at the temple, then at 6am all the monks and novices will walk around the neighborhood to collect alms from the locals. It's a sacred ritual in Luang Prabang and has been around for hundreds years. The locals usually give sticky rice, but I see some people give away biscuits and fruits, too. It's beautiful :).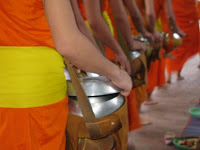 And that becomes my ritual, too in Luang Prabang. Almost every morning I wake up early and run to the street to witness this sacred moment. Hundreds of monks in orange robes walk down the street barefooted carrying a beautiful sticky rice bowl on their right hand. The locals sit on their knees on the street in front of their houses, giving away sticky rice to hundreds of monks that stand in line. Witnessing this ritual in the morning, reminds me that I should give more to the others and think that no matter what happens, the nature will take care of us anyway :). I learn this from the monks. They eat from the alms, the food given by the people. And they say, everyday, there's always someone delivering food to the temple. How nice is that? 🙂
After saying goodbye to Wang Tho, I continue walking around and decide to enter a small alley. Passing by some local houses, I'm very surprised that the alley leads me to a beautiful temple at the end! Wooowwww!!! It's Wat Xieng Thong, the oldest and most beautiful temple in Luang Prabang! And…. the jackpot isn't finish yet…. there's a festival going on there! Wooohoo!!!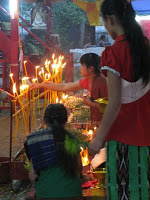 Some food vendors selling Lao food – gluten and sesame seeds wrapped in a lettuce or guava leaf; fried noodle; and some other snacks. I try one of them and the lady wants to give it to me for free! How nice these people are! I give her 2,000 Kips instead. I know it would cost less, but I appreciate her kindness…
There's a big tent in the hall and a lot of people pray in the tent. I come closer to the tent to see what's going on. Ah! There's a Buddha statue in the middle of the altar, with a lot of red candles and flowers in front of it. People pray for the Buddha and…. bath him! This is a special festival, called "Pin Ma Lai" festival, which means Lao New Year festival. They celebrate it in mid April and have the showering Buddha ritual for 5-6 days. I read about this festival in my guide book. Thought I would miss it, but… hey… how lucky I am, the festival is still going on! 🙂
At the top of Buddha statue, there's a long dragon like pipe. People climb up the stairs with a silver bowl filled with water, pour the water at the edge of the dragon pipe, then the water will flow to the middle part and drop right at the head of the Buddha! Very interesting!
One of the monks offers me to take parts in showering the Buddha, too. But, I'm wearing my short pants at that time, I don't think it's polite :P. (who knows I would end up at this beautiful temple and an annual festival? I'm not prepared at all in terms of costume wise. If I knew, I would've wearing a long pant or a long skirt to respect the whole rituals!)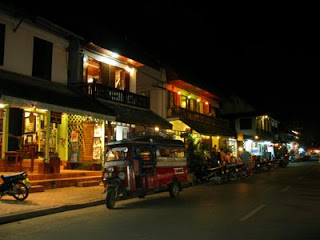 After chatting with some monks and novices there, I leave the beautiful temple and continue my sightseeing. I walk down Sakarine Road and arrive at Sisavangvong Road. This street is full of restaurants and bars. As locals call this street "A Falang Place" — Falang (it's actually Farang, but Laotians cannot pronounce "R") is a term they use for foreigners — I can see why tourists love to hang out at Sisavangvong Road. The restaurants and bars here are stylish, with nice lightings… in some places, they use candles in the gardens, making the whole street look romantic and pretty :). Some bars have modern interior with minimalist touch, some boutiques are designed in such a way, making them look exotic with Buddha statues here and there. Fancy. Jewelery shops, internet cafes and travel agencies are cramped on this street, too. You can basically find everything here. It's the main street for Falang, indeed! LOL.
After having dinner at this "Falang street", I wander around the night market. It's glowing at night, very pretty! The area of the night market is quite a long way down. Honestly, I don't expect that. Most of the stalls sell same stuff. It's a high competition going on here! :p Quilts, bags, bracelets, silver rings, make up pouches, scarfs, wallets, t-shirts, sandals, you name it. Most of the bags, wallets and scarfs are hand-woven. Very pretty and girlie :).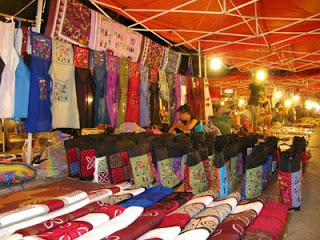 I call it a day, after my eyes are refreshed with those nice and colorful cute stuff at the night market. My feet are getting tired, almost screaming for help. It's time to sleep and rest. Someone has to wake up early tomorrow to witness the sacred morning alms ritual!
Good night, Luang Prabang. Think am in love with you.