I was invited to be one of the speakers at the "Thailand Conference on Reading 2013" in Bangkok, Thailand. The event was held by Thailand Knowledge (TK) Park, an education arm of the Prime Minister's office on March 21-22, 2013.
I was actually surprised that I had to write a paper for this conference! A paper about the topic of my presentation. OMG. I haven't written a paper in ages! I think the last time I wrote a paper is when I was still studying for my Masters degree in the University of Amsterdam, The Netherlands, back in 2002! 😀
So, I wrote my paper titled "Rainbow Reading Gardens: an initiative to inspire children's imagination in Eastern Indonesia". TK Park, the organizer said that it didn't have to be too academical, because they thought it would be interesting to see a different perspective from a practitioner like me. Fffiuhh.. thank God!
I delivered my presentation on the first day, they gave me 1 hour slot with Q&A. I received positive feedback from the participants, I was so happy, because it meant they enjoyed & interested in my presentation :).
Here's the group photo of all speakers and the TK Park boards: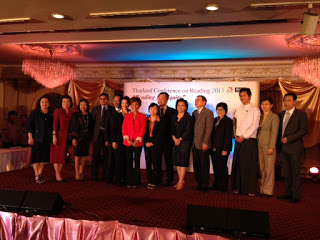 The other speakers were from India (Dr. Dhir Jingran), Myanmar (Ye Htet Oo), and Vietnam (Dr. Vu Duong Thuy Nga). They were all experts in education field. Dr Dhir used to work for "Room to Read" as one of the directors and I almost fell off from my chair hearing that he worked together with John Wood, the founder of "Room to Read" all the time. (I'm a big fan of John Wood) :D.
Being in the room with those experts from different countries and 200 participants from the region who are all experts and practitioners in education field. Librarians, academics, NGOs in education, etc. I was so happy to be there and felt inspired. The energy during the two day conference was very positive. I loved it!
People were also willing to support each other and making connections. It was just great.
I learned so much from everyone of them, especially the speakers.
Ye Htet Oo from Myanmar said that in Myanmar, you have to get a letter from the police office if you wanted to be a member of a library! 😀 Everyone laughed hearing it. But, guess what, the Myanmar government has a policy to give every student at school a tablet! Wow! You wouldn't believe it, right?
The Thai government also does the same. How about Indonesia? I guess it will not happen in the next several years, considering there are so many remote areas that don't even have access to electricity yet, let alone giving a tablet for every kid in the country!
On the second day, the speakers were invited to go on a tour to TK Park. TK Park has a living library, which is very modern and full of fun, located in a shopping mall in Bangkok!
I was very impressed with the facilities there. They have cool interior design where kids could read and enjoy the book in a comfortable way. Also, kids were allowed to make noises. There's no such thing as "Please be quiet" in this library. Awesome, isn't it? Not only that, there was a little cafe in the corner where people could eat, drink and have some ice cream! Who said you couldn't eat and drink in a library? ;D
I loved the "Tree House" and these cubicles where kids could climb and sit on one of those cubicles. Great idea!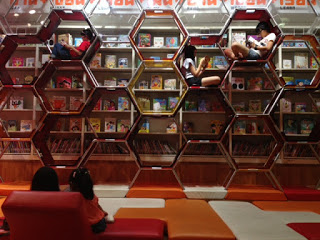 They also had a music room where people could learn different types of music and music instrument from all over the world, including its history. Also a computer room where kids could play computer games! The games were designed like a story-telling games, so kids also learn to read and understand the story. Brilliant.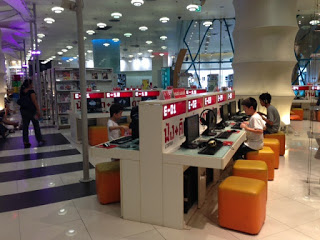 Being there, I wish one day Indonesia also has a fun living library like this. A library where kids could also have fun and not bored.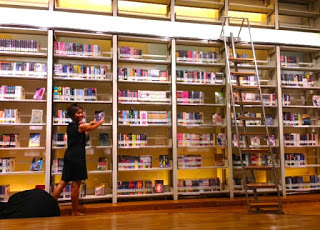 Thank you, TK Park for inviting me to be the speaker for those two-day of "Thailand Conference on Reading 2013". Hope to see you guys again soon!