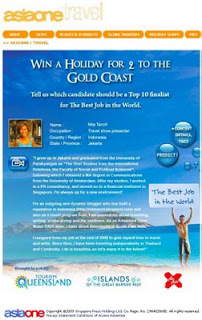 AsiaOne collaborated with Tourism Queensland launched a promo titled "Win A Holiday for 2 to The Gold Coast".
Basically, all you need to do is to predict which candidate of the four shortlisted applicants from South East Asia who will make it to the top 10 for "The Best Job in The World" campaign.
Click here to find out more details here
Well.. for this promo, I think you have to live in Singapore, because they will ask for your Singapore's identity card number.
Ok… now.. let me update you on the vote!
I'm now in the 14th position with 4,033 votes.
11 days more to go! Please keep the votes coming to:
http://www.islandreefjob.com/nila or click HERE
Thank you again, guys! I really appreciate your support!!! xoxoxo