(Singapore trip, November 22nd – 24th, 2013)
"Hello Miss, how can I help you?", greeted the receptionist staff of the new Holiday Inn Express Singapore Orchard Road warmly.
"Oh hi. I want to check in", I replied. The next thing I knew, the whole check-in process was done in about five minutes. She handed over my room key and informed the breakfast time for tomorrow and pointed at the hotel restaurant.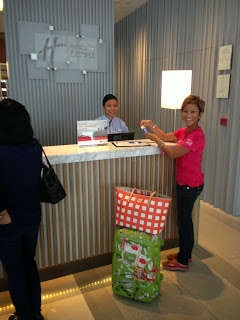 Perfect. Now I could rest. The early morning flight (at 7am) was not my favorite. I had to wake up at 4am and left my apartment at 4.30am. Brutal. Even more brutal because I just landed back in Jakarta at 11pm the night before. So, with unpacking my stuff from the previous trip and packing my stuff for this Singapore trip, I only had 3 hours of sleep. zzzZzz..
I tried to take a nap, but unfortunately I couldn't. Do you know that feeling when you're too tired but you couldn't sleep? So, anyway, since I couldn't sleep anyway, I tried to do some work in the little corner in my room.
The room itself was a standard size, meaning not too big and not too small. It has a clean shower room and toilet on the left side of the door entrance. Also not a big size, but it was comfortable enough and it didn't make you feel that you're in a small bubble.
Here are some photos of the room: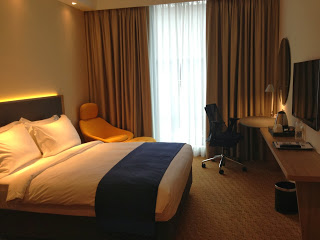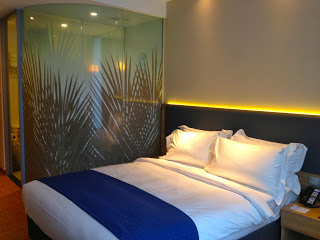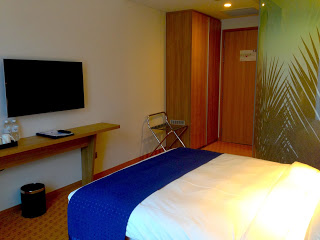 And I loved this corner, because there was an extra lamp that was very useful for my eyes when I had to work until late at night or when I needed to put on some make up and make sure that I didn't put too much colors on my face! 🙂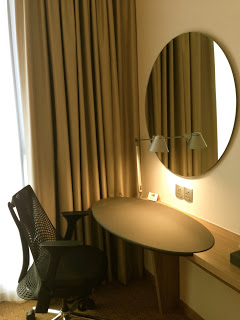 Frank, the manager of Holiday Inn Express Orchard Road Singapore, said that this hotel has 221 rooms in total with only one room type. Their focus was to provide a stylish accommodations and streamlined services to ensure a hassle-free stay for savvy travellers. Being located at the heart of Orchard Road shopping district, this hotel would be the perfect choice for anyone who were pretty mobile and wanted to stay in a strategic location. And oh, if you're a shopaholic, it would be heaven to stay here, because you could just walk a few steps to Paragon mall and Nge-Ann City aka Takashimaya! Perfect, right? 😉
The fourth floor was kinda special, because there were a meeting room and… laundry room located here! The meeting room could cater a meeting of 12 pax. The room was completed by adjustable tables and all the necessary items for office meetings.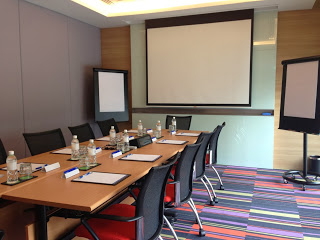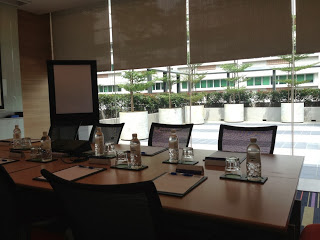 And this was my favorite place (I think!)… the laundry room! Why I chose this corner as my favorite place? Listen to this.
The Holiday Inn Express Singapore Orchard Road hotel provides washing machines, dryers and irons for guests who choose to do their own laundry. Guests could use the washing machine with only 5SGD/time and the dryer for the same rate. As for ironing — free of charge. Wow! It really surprised me because I've never stayed in a same level of Holiday Inn hotel but I could do my own laundry! It actually felt like staying at a hostel, but with five star hotel facilities ;D.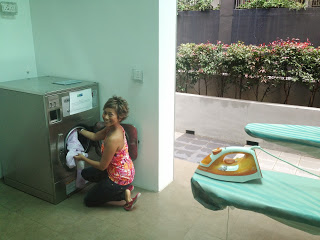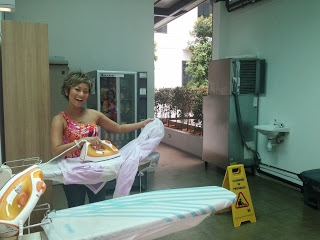 This hotel seemed like they wanted to encourage travellers to be efficient and not spending too much cash on unnecessary items. For example, the mini bar in the room has nothing in it. Why? Frank said that they suggested the guests to buy their own snacks and drinks and then put them into the mini bar. Those soft drinks and snacks were cheaper at a mini store anyway, so why spent more in buying the same items at a hotel's mini bar? "How many of you drink from the mini bar if you stayed in a five star hotel?", he asked. Well, I guess he's right.
And not only that. The hotel also didn't provide toiletries like shower cap, toothbrush, etc. They only provided the necessary items, such as a two-in-one shampoo and shower gel. But what if we needed a toothbrush? Frank said, "All those other items could be pick up at the reception desk downstairs, for free". Aaaahh…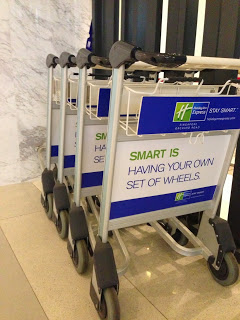 Also, there was no room service provided! What if we're hungry and wanted to eat something but feeling lazy to go out? "At your room, instead of providing you with a room service's menu, we provide you a bunch of delivery services menu from different restaurants. Guests will make the order themselves from the room. When the food arrives, you can just pick it up downstairs and pay directly to the delivery service guy", Frank explained. Pretty cool, eh? Very efficient, I liked it!
And… when guest arrived at the hotel, there was no "porter" who would carry guest's suitcases to the room upstairs. Instead, the hotel provided a trolley, so the guest could carry all their luggages themselves, just like at the airport! (yes, you could save your "tip money" to buy an ice cream in front of Takashimaya in Orchard Road) 😉
I was amazed by how this hotel worked. Seriously. For me, it's more of a "Do It Yourself" hotel, but complimented with very good standard and facilities for guests. I kinda like it!
That night, I slept very well because of the comfy bed and pillows the room has! Check this out. The pillows even had different types: soft and firm, and it's written on the pillow covers! Ohhh… I always loved the little details of a hotel or restaurant whenever I traveled. And this one was a great example of the small details!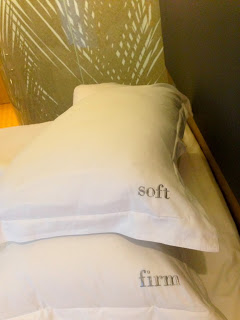 I loved the bed so much, I even tried to check the mattress' brand, but in the end I didn't do it because I didn't want to make a mess of the whole bed! :)) But, it was super duper comfy! I think I would send Frank an email and ask him what brand did they use for their mattress :p.
zzzZZZzz… Good night, Singapore!