(Ubud, Bali – October 11th-15th, 2013)
The
Ubud Writers &Readers Festival
is the major annual project of the not-for-profit foundation, the Yayasan Mudra Swari Saraswati. It was first conceived of by Janet DeNeefe, co-founder of the Foundation, as a healing project in response to the first Bali bombing.
The Festival's mission is simple and yet complex: to create a world class literary event which encourages a free and unfettered dialogue that transcends race, creed and gender to celebrate the universal appeal of story and open a window to the treasury of words and ideas.
This year's theme was "Honoring Kartini".
Kartini
was one of Indonesia's heroines who fought for women's equality & access to education for Indonesian in the colonialism era.
I felt so honored to be invited to speak & participate in this super cool festival. A 3-day festival full of book authors, inspiring people and educators. Everyday was full of inspiring talks and discussions hosted by famous book authors or inspiring people related to the topics. So many interesting things happened at the same time, so it was hard to choose which session to go!
What I loved most from this festival was… the vibe.
For 3 days, the streets in Ubud was filled with people walking around with UWRF 2013 name tag hanging on their necks, going from one venue to another venue, filling their minds & souls with inspiring talks by inspiring people from different parts of the world.
The UWRF 2013 committee asked me to speak at two sessions for the Main Programs, which were "
The Library
" on the first day and "
Honoring Kartini
" on the last day of the festival.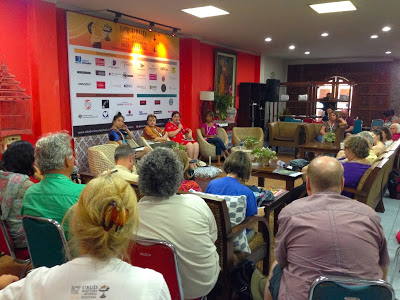 "
The Library
" discussion featured Christel Mahnke (Regional Head of Library & Information Services at Goethe Institut Jakarta), Estelle Tang – a bibliotherapist, and me as the speakers and Cheryl Akle (Get Reading! Project Director).
We talked about the role of libraries in the community. Ms Mahnke from Goethe Institut shared her experiences and knowledge about libraries in Germany, while Estelle Tang shared her story of being a bibliotherapist – a therapist using books in treating her "patient". What an interesting profession! And I got the chance to share about
Rainbow Reading Gardens,
my initiative in establishing libraries in remote areas of Eastern Indonesia. And guess what…. During the Q&A session, I got most questions from the audience! That's a good sign! It means the audience paid an interest in my story & experiences!
The "
Honoring Kartini
" discussion featured
Dewi Lestari
, a famous book author who happened to be my senior at the university, and me as the speakers. Moderated by
Sonia Piscayanti,
the session discussed about how Indonesian women like Dewi and I struggled these days in fighting for women's rights as "modern Kartini".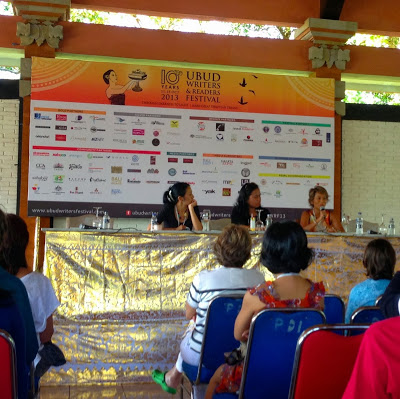 A question from the audience that I found interesting was: "Both of you live in two worlds – people see both of you as modern Indonesian women, but you also have to deal with traditional values. Like for example, Nila goes to remote villages but actually you live in the center of Jakarta. How do you deal with that and how does it like, living in two different worlds?"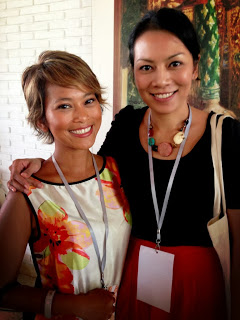 Here's my answer to that:
My Dad's parents sent him to Hongkong when he was 12 to study until high school. After that, he went to the US for his bachelor and worked in the US for a long time. So he had a western mindset. He always taught me to speak up & encouraged me to express myself.
On the other hand, my Mom grew up in a small village called Wonosobo in Central Java. She's a traditional Javanese woman with conservative mindset. Unlike my Dad, she always taught me to be polite and if I didn't like something, I shouldn't express it. "Just be quiet", she said. If I didn't like her friends – some of her friends I didn't like – then I shouldn't show or express it. "Just stay in your room or say nothing if she came", she said.
So, as a child, I was confused which one should I followed and listened to? But along the way, I managed to get the positive aspects from both sides. I learned to speak up my mind – that's from my Dad's teaching; and I could also be very polite & diplomatic and smile a lot – that's what I learned from my Mom J. So, I'm kinda used to living in two different worlds. I'm pretty much trained for that! 😀
Ubud Writers Festival was like a big family festival. We had dinners & luncheons together (all the writers & speakers) and also party together! I remember the closing party – special for the writers & speakers, was intimate and so much fun. What I loved most was that everybody had a great time, dancing like nobody's business & dress like we owned the world. These were authors – talented yet artistic people. There was no pretentious people like I normally saw in any clubs in Jakarta or Singapore. People really embraced the night. Loved it.
Even a day after the event, I was in a swimming pool with my hubby, when he asked about the festival, I answered, "
It was such a wonderful event. I'm still digesting it
".