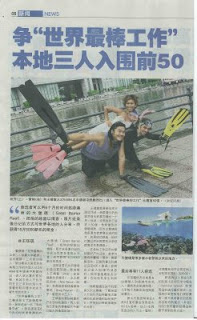 Yesterday morning, I took a cab heading to the Cavenagh Bridge in Singapore, bringing some of my dive gears with me. What was I up to?
Relax, guys… I wasn't going to jump in to the water or scuba-dive in the river there! 😀 LOL.
I went there for a photo shoot for Lianhe Zaobao, the largest Singapore-based Chinese daily newspaper. The publication was running a story on "The Best Job in The World" and was planning to feature the candidates from South East Asia.
So, that morning, I met two other candidates from Singapore: Greg and Jimmy. They're both fun people and we had such a great time during the photo sessions! Together with Dennis, the photographer, we tried to think of what would be the best pose for the newspaper! And.. here's the result.. check out the article that's published today! What d'ya think of the picture? Nice, eh? 😀