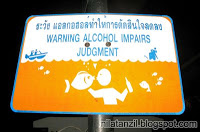 Sometimes, it's hard to choose a dive center when there are so many of them in an island. Too much options can be confusing! 😀
During my trip in Thailand, some islands have more than 20 dive centers. In Phi Phi, there are around 22 dive centers, while Koh Tao has more than 40 dive centers! The next question is: "How to choose the best one?" Well, it's tough. As for me, I usually read some recommendations from the guide book first, then walk around and talk to some people in the dive centers. Here are some of the questions I usually ask, assuming each dive center has the same facility:
The schedule for the next day: which dive spots? –> Normally, I already know which spots I'd love to see. Plus, I can always ask for further info on certain dive spots at the dive center. After knowing the schedule of each dive center, I usually match it with my own interest. Which dive spots I'd love to go.
How many people in one group? –> I prefer 3-4 people max in one group. Too many people in one group means you'll get less attention from the dive master.
How many people will be on the boat? –> I prefer smaller group, again. Too many people on one boat means chaotic! It's always nicer to have more space 🙂
How do they divide the group? –> If the dive center put the more experienced divers in one group and the new divers in the other group, then it's better. But sometimes if there aren't enough people, they'll just put the experienced and new divers in one group.
How experienced are the dive masters? How long have they been living in the island? –> It comes handy to have a dive master who has been living in the island for quite sometime. It means, he/she knows exactly where the ornate ghost pipe fish is hiding, where the pygmy seahorses can be found, etc etc. Plus, a more experienced dive master would not make us swim against the current! 😀 Instead, he'll know exactly where he should take us, so that we don't need to swim against it… instead.. we just follow it :).
Personally, I prefer to dive in a smaller group. It's nicer and more relaxing. Plus… there's more space to sunbath on the boat! 😉 Perfect!