Banyak ibu-ibu yang sering khawatir jika ingin traveling bersama anak balita. Mulai dari kekhawatiran akan anak sakit saat traveling, anak rewel, hingga khawatir akan barang bawaan yang banyak dan merepotkan! Semua kekhawatiran ini membuat niat untuk mengajak anak melihat tempat-tempat yang indah jadi gagal. Sayang kan? Padahal, jika persiapan liburan bersama anak dilakukan dengan baik, maka kita tetap bisa berlibur tanpa stress! 😀
Traveling bersama anak balita bisa menjadi sebuah kegiatan yang sangat menyenangkan. Mengapa? Karena anak kita jadi bisa belajar berbagai hal dari pengalaman traveling itu, bonding antara ibu dan anak menjadi semakin kuat, dan ibu pun jadi refreshed karena dapat melepas penat dari kegiatan rutin sehari-hari. Sayang kan kalau ketiga hal baik ini dilewatkan begitu saja hanya karena kekhawatiran yang berlebihan?
Saya memiliki seorang anak balita yang saat ini berusia dua tahun. Namanya Sienna. Sejak Sienna berusia tiga bulan, saya sudah mengajaknya traveling kemana-mana hingga sekarang. Di usianya yang baru tiga bulan, Sienna sudah mengalami traveling dengan berbagai jenis transportasi: darat, laut, udara! Ia ikut ke Portibi Farm di daerah Sukabumi dengan perjalanan tiga jam lebih naik mobil, lalu seminggu kemudian, saya mengajaknya ke Pekalongan dengan naik kereta api selama lima jam perjalanan, setelah itu lanjut ke Taman Nasional Komodo di Flores dengan naik pesawat ke Labuan Bajo dan naik kapal ke pulau-pulau kecil di sekitar Taman Nasional Komodo.
Hingga kini, setiap bulan, saya rajin traveling bersama Sienna. Bahkan saya pernah traveling berduaan saja dengannya ke Turki di Eropa saat ia berusia tujuh bulan!
Banyak orang bertanya-tanya, "Kok bisa sih? Apa nggak repot?"
Repot. Tentu saja traveling bersama anak balita lebih repot dibandingkan kita traveling sendirian. Lihat foto ini, seperti inilah "bentuknya" saat saya traveling berduaan saja dengan Sienna 😀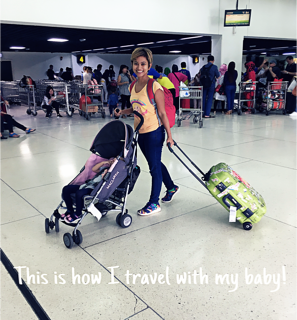 Namun, urusan "repot" ini juga bisa diminimalisir dengan persiapan yang matang. Nah, apa saja sih yang perlu dipersiapkan jika ingin merasakan traveling yang menyenangkan bersama anak balita? Saya akan share beberapa tips disini untuk anda!
Persiapan
Buat rencana kegiatan selama traveling. Kira-kira selama liburan itu, anda ingin pergi kemana saja dan melakukan kegiatan apa bersama anak? Rencana kegiatan ini akan sangat membantu kita untuk memikirkan apa saja yang harus kita bawa.
Pastikan anak anda dalam keadaan sehat saat mau traveling.
Pastikan jadwal imunisasi tidak terlewat dan balita sudah mendapatkan imunisasi yang diperlukan.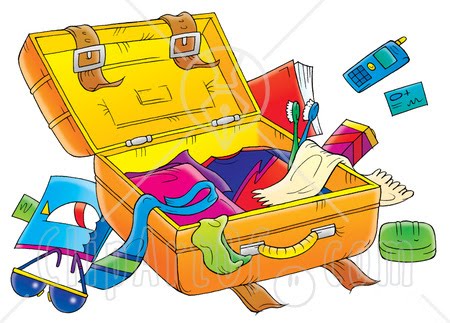 Packing.
Traveling bersama anak balita tidak berarti kita seluruh isi rumah perlu kita bawa!
Saya selalu berusaha untuk "Travel Light" – alias membawa barang bawaan seminimal mungkin. Saya bahkan biasanya hanya membawa sebuah koper yang cabin size saja untuk kami berdua. Bagaimana caranya?
Buat daftar barang kebutuhan anak selama traveling. Apa saja yang kira-kira akan diperlukan oleh anak selama liburan? Misalnya: susu formula, botol susu, diaper, pakaian, tissue basah, sepatu/sandal, kaos kaki, jaket, topi, baju renang, sunblock lotion, pelampung renang, dan lain-lain.
Membatasi jumlah barang bawaan. Caranya? Dari daftar barang kebutuhan di atas, pikirkan barang apa yang bisa dibeli di destinasi wisata yang dituju. Misalnya: diaper. Jika akan traveling seminggu, anda tidak perlu membawa diaper untuk kebutuhan seminggu. Biasanya saya hanya membawa 6 buah diaper saja. Selebihnya, saya beli saat sampai di kota tujuan.
Selama traveling, anda bisa menggunakan jasa laundry atau bahkan mencuci baju anak sendiri di hotel. Biasakan mencucinya setiap hari, sehingga cucian tidak menumpuk dan selalu ada stock baju bersih. Dengan demikian, jumlah baju anak yang dibawa di koper bisa dikurangi! Untuk traveling seminggu, misalnya, saya biasanya hanya membawa 3 buah setelan baju plus 2 kaos cadangan dan 3 buah piyama tidur untuk Sienna. Let's travel light!
Bawa makanan instan. Bukan mie instan, namun bubur bayi instan. Hal ini sangat praktis dan memudahkan! Tidak perlu membawa rice cooker untuk memasak bubur bayi. Jika anak anda tidak suka dengan bubur bayi instan, anda bisa meminta pihak hotel untuk memasakkan bubur bagi balita anda.
Travel smart! Tidak perlu membawa bottle sterilizer. Anda bisa menggunakan air panas yang anda masak dengan kettle di hotel kamar untuk mensterilkan peralatan bayi.
Bawa sabun, shampoo, dan cream bayi dalam kemasan kecil (travel pack).
Bawa mainan favorit anak anda. Hal ini bisa membuatnya semakin menikmati pengalaman traveling bersama anda.
Bawa obat-obatan untuk balita anda, termasuk obat anti nyamuk!
Bawa baby carrier yang sesuai dengan destinasi wisata yang dituju. Anda bisa membawa baby stroller dan sling

Saat Traveling
Sangat penting bagi para joy moms untuk menghilangkan segala kekhawatiran yang ada di benak kita. Joy moms harus yakin bahwa pengalaman traveling ini akan menyenangkan. Sikap tenang dan santai dari joy moms akan dirasakan oleh anak kita dan hal ini akan membuatnya tenang juga. Jika kita senang, anak pun akan merasakannya. Demikian pula sebaliknya jika kita khawatir dan panik, maka anak pun akan merasakan kegelisahan kita tersebut. So, joy moms, sit back and relax. Let's be happy and enjoy the travel experience with our little angels! 😉
Let's go traveling with our kids, moms!