(Singapore trip, November 22nd – 24th, 2013)


There was a saying "Breakfast is the most important meal of the day". I believed it. In fact, when you're traveling, it's very important to have something in your stomach before you start strolling down the road, exploring new places, experiencing new adventures.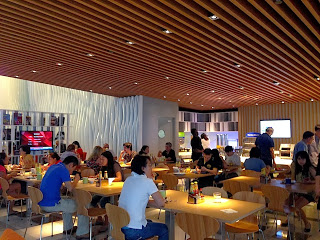 So, as soon as I woke up in the morning and took a shower, I rushed downstairs to get some breakfast. The Holiday Inn Express Orchard Road Singapore provided travellers with tasty breakfast at their restaurant, which was located behind the lobby. What I loved from this area was the "To Go" corner. There was a little corner where people could have their coffee and tea plus fruits and pastries to take away. It was perfect for those who were rushing for business meetings and didn't really have time to sit down at the restaurant for breakfast. It was very thoughtful. I loved the little details like this :).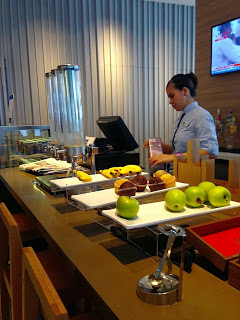 As Indonesian, I loved big breakfast. I remember that when I studied in Amsterdam, I used to have a plate of fried instant noodle for my breakfast and one of my Greek friends commented, "Nila, why do you have pasta for your breakfast? Isn't it too heavy?" 😀
So, this morning I decided to have fried glass noodle with scrambled eggs. Yes!!! I needed my tummy to be loaded. Ha! The noodle tasted so good, I even had a second round (yes, I had big appetite for a petite woman like me) :p. The hotel provided menu such as: fried glass noodle, fried noodle, sausages, scrambled eggs, bread, fruits, pastries, cornflakes, and many more. Yoghurt and different types of fruit juices were also available.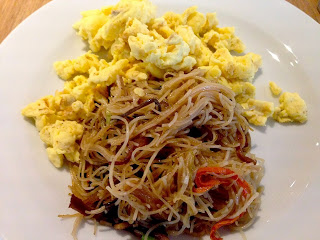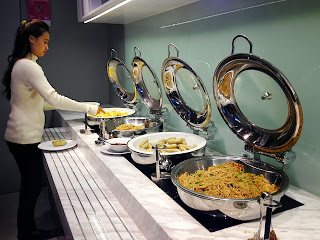 After breakfast, I wanted to go back to my room to get ready and passed the hotel's biz corner. It was pretty simple, but convenient enough for travellers who wanted to check their emails or browse the internet while waiting for their friends. The comfortable sofa with catchy colours of white and red made the biz corner quiet catchy.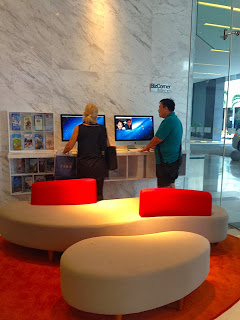 Two things that I found important during travelling were: having enough sleep at night and good breakfast to start the day. If I didn't have enough sleep, I would feel lousy the next day and couldn't really explore places, which was a down side when we're traveling, right?
And a good breakfast really helped me to get some energy and made me ready to roll! 🙂 If I missed breakfast, I usually felt cranky at 11am, because I would be so starving and felt like getting mad at everyone. Hahaha.. Plus, when you're hungry, you would end up eating more than you need, and this didn't do good for you, obviously!
So, this morning I felt so energised after sleeping in a comfortable bed and eating yummy and heavy breakfast (just what I needed! :D) at Holiday Inn Express Orchard Road Singapore. Let's go shopping now! :))
Dear fellow travellers, remember to sleep well and eat breakfast when you're traveling, ok? These were two of the key factors to make your travel experience more exciting and colourful as you would have all the energy in the world to try and explore new things!
Happy traveling!