Some people are scared to try scuba-dive. Some people LOVE this sport and always find their excuses to go somewhere only to dive. Is this sport has some similarities with my favorite fruit — durian? Either you LOVE it, or you HATE it. Or just don't have the courage to try.
I've been thinking to take a course on scuba-dive months ago, but wasn't sure coz I'm scared of snakes! Sea snakes. Thinking about it makes me sick and all frightened.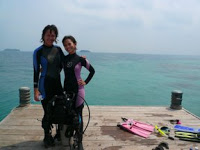 But then, I was so curious why people love it so much. They all say that under the sea is like a totally different world, yet a beautiful one. And for that, I'm taking my risk and try to overcome my fear of the possibility of bumping into a sea snake (yeah.. yeah.. you can laugh at me!)
So, after taking a private lesson from my diving instructor, Mbak Vita, I went to Sepa Island in Thousand Island with her and another girl, Anin, to take the final exam and get the PADI open water dive certificate. Here's my first experience (again, feel free to laugh at me):
First dive, 12 meters depth. Tried hard not to panic. "What the hell am I doing?", I said to myself. What if something bad happened?" But I kept a positive thought: "It's gonna be a wonderful experience. Just do it!" Then I sinked myself and went down… deeper.. and deeper..
I could feel my heart beats fast and my ears hurt as I went deeper. Following my diving instructor, I equalized my ears often, until I felt comfortable to explore the underwater sea..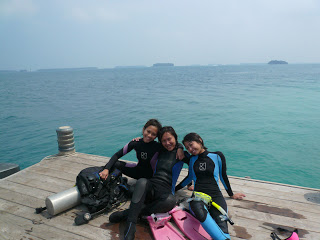 Suddenly all around me was green. It felt like living in a green world! Really. As far as I could see… everything was green! I saw some corals, big ones, some of them look like giant mushrooms. I saw some sea urchins too, giant "keong" in white and lots of "goby" fish hiding in the sand.
I was enjoying the scenery all around me until my instructor waved at me with her hand holding a pink fin. What?! "That fin looks familiar", I thought. And.. yes! That's my fin!!! Hahahaha… I didn't realize that my right fin managed to release itself from my right foot! Naughty fin! I was almost choke from laughing with the regulator on and the mask attached on my face :)).
So, that was the first dive. In total, we dove 5 times in 2 days. Managed to dive up to 18 meters depth. The next dives were smooth and for sure I didn't lose my fin! hehehe… Was so happy to see different types of fish swimming in front of me as if I was invisible. The sea definitely looks beautiful underwater and it really amazed me to realize that there are thousands of creatures living under the sea. Peacefully.
It was indeed so peaceful down there. So quiet. All I could hear was only my breath… breathing in.. breathing out.. while enjoying the "green world" and its inhabitants around me..
Now I can see why people LOVE it 🙂