Mau melakukan perjalanan jauh bersama balita anda dengan naik pesawat? Bingung musti bawa apa saja? Tenang… saya share yah, packing list apa saja yang harus dibawa di tas bayi saat saat traveling naik pesawat 🙂 Barang-barang inilah yang selalu saya bawa dan masukkan ke dalam diaper bag #SiennaLittleExplorer!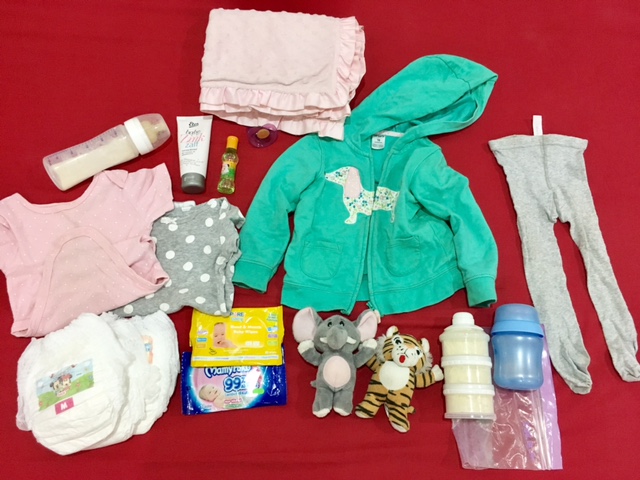 Apa saja yang harus dibawa di tas bayi saat traveling naik pesawat?
Diapers. Berapa banyak? Jumlahnya tergantung lama penerbangan. Kalau untuk penerbangan domestik, saya biasanya hanya membawa 3 buah diapers saja. Sedangkan untuk penerbangan ke luar negeri, saya bawa extra.
Tissue ganti popok (tissue basah) dalam kemasan kecil. Tissue basah ini biasanya berisi 10 lembar. Kalau penerbangan domestik, saya bawa 1 kemasan saja. Kalau penerbangan ke luar negeri, saya bawa 2 kemasan.
Tidak perlu membawa tissue basah kemasan besar, karena nanti diaper bag-nya jadi berat!
Hand & Mouth Baby Wipes – 1 kemasan kecil. Tissue jenis ini tidak hanya berguna untuk membersihkan mulut dan tangan balita, namun juga pacifier/dot balita serta peralatan makan mereka. Lebih aman, karena sudah food grade formula.
Sepasang leggings, jaket, dan 2 jumpsuit. Untuk penerbangan domestik, ini cukup. Untuk penerbangan luar negeri, saya tambahkan 1 extra legging, 1 long jumpsuit.
Wadah susu formula. Tidak perlu membawa susu dengan kalengnya. Wadah ini lebih praktis dan kita bisa langsung menyesuaikan dengan takaran susu balita kita.
Sebuah botol susu dan sebuah sippy cup untuk air minum.
Snack favorit balita. Jika balita anda masih bayi dan makan bubur, biasanya saya membawa bubur bayi yang instan supaya praktis. Peralatan makan bayi seperti mangkok dan sendok juga dibawa. Namun ketika balita sudah berusia dua tahun, tidak perlu membawa peralatan makan sendiri.
Pacifier/dot (beberapa anak tidak menggunakan ini. Good for you, moms!)
Mainan favorit anak anda dan buku favorit mereka. Barang-barang ini sangat berguna, supaya anak tidak bosan di dalam pesawat.
Lotion bayi serta minyak telon. Lotion bayi diperlukan agar kulit balita tidak kering, terutama saat penerbangan yang panjang ke luar negeri. Minyak telon digunakan jika kaki dan badan bayi terasa dingin.
Selimut, selalu diperlukan di dalam pesawat! Kadang ada airlines yang tidak menyediakan selimut lho… ;). Selimut juga bisa digunakan sebagai bantal balita kita.
Kantong plastik. Saya selalu menyelipkan sebuah kantong plastik di dalam diaper bag untuk membuang diaper yang kotor ataupun baju basah.

Itu saja! Nggak terlalu banyak kan? 🙂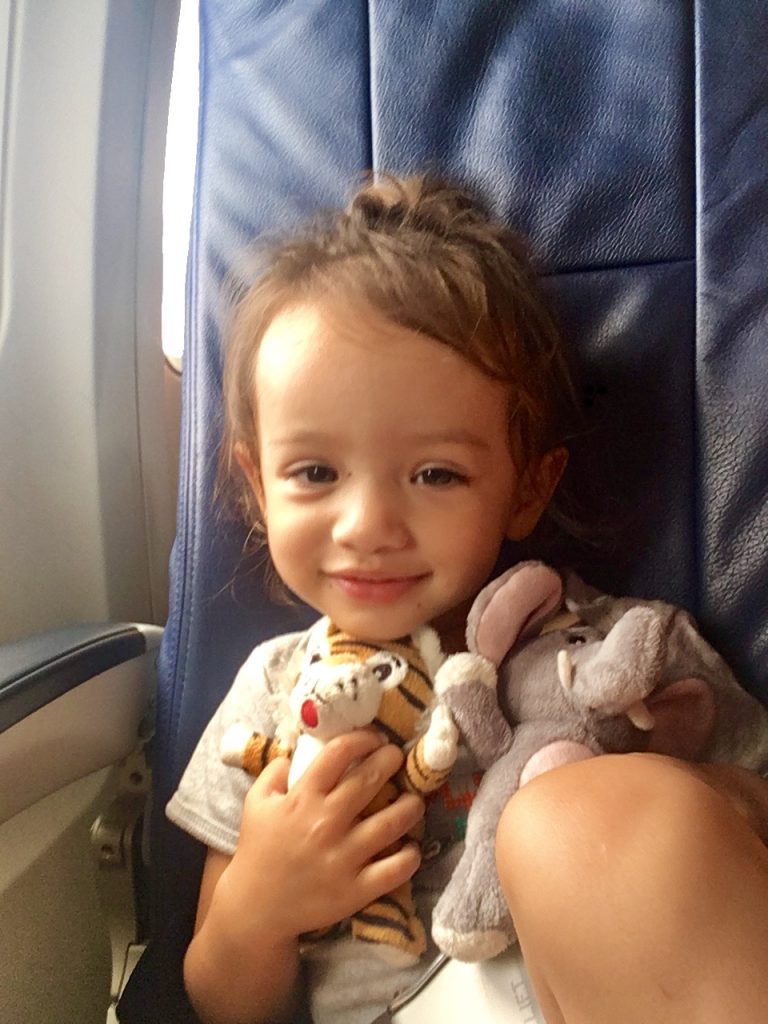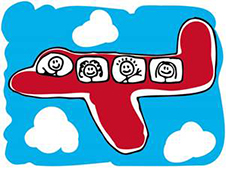 Nah, kini anda nggak perlu repot dan bingung lagi deh! Anda bisa meniru style traveling saya. Travel light, but still equip with all the things she needs on the plane!
Let's travel with our kid(s), moms!